E-Learning Readiness Analysis Using E-Learning Readiness Model
Keywords:
e-Learning, Readiness
Abstract
The successful implementation of e-Learning in a college is influenced by many factors. One of these factors is the readiness of universities to use e-Learning in teaching and learning process. E-Learning Readiness (ELR) is an instrument developed by Aydin and Tasci to measure the level of readiness of e-Learning implementation in developing countries grouped into four factors: technology, innovation human, and self-development,. This study aims to determine the level of readiness of e-Learning implementation in teaching and learning process at Hasnur Polytechnic. The results showed that Hasnur Polytechnic is included in the ready category in applying e-learning but requires an improvement on several factors.
Downloads
Download data is not yet available.
References
Al-Busaidi, K., & Al-Shihi, H. (2012). Key factors to instructors' satisfaction of learning management systems in blended learning. Journal of Computing in Higher Education, 18-39.

Angraini, & Suryadi, D. (2015). Pengukuran Tingkat Kesiapan Penerapan E-Learning Menggunakan TRI (Technology Readiness Index), Studi Kasus: UIN Suska Riau. Jurnal SISFO : Inspirasi Profesional Sistem Informasi.

Astuti, N., & Nasution, R. (2014). Technology Readiness and E-Commerce Adoption among Entrepreneurs of SMEs in Bandung City, Indonesia. Gadjah Mada International Journal of Business.

Aydin, G., & Tasci. (2005). Measuring Readinesss for e-Learning: Reflection from Emerging Country. Educational Technology and Society Journal.

Blin, F., & Monro, M. (2008). Why hasn't technology disrupted academics' teaching practices? Understanding resistance to change through the lens of activity theory. Computers & Education, 475–490.

Chapnick, S. (2000). Are You Ready for E-Learning? Learning Circuits: ASTD's Online Magazine All About E-Learning.

Clark, R., & Mayer, R. (2011). E-Learning and the science of instruction: Proven guidelines for consumers and designers of multimedia learning. John Wiley & Son.

Fariani, R. (2013). Pengukuran Tingkat Kesiapan E-Learning (E-Learning Readiness) Studi Kasus pada Perguruan Tinggi ABC di Jakarta. Paper presented at the Seminar Nasional Aplikasi Teknologi Informasi (SNATI).

Gillard, S., Bailey, D., & Nolan, E. (2008). Ten reasons for IT educators to be early adopters of IT innovations. Journal of Information Technology Education, 21-33.

Gotthardt, M., Siegert, M., Schlieck, A., Schneider, S., Kohnert, A., & Gross, M. (2006). How to successfully implement E-Learning for both students and teachers. Academic Radiology.

Naveh, G., Tubin, D., & Pliskin, N. (2012). Student satisfaction with learning management systems: A lens of critical success factors. Technology, Pedagogy and Education, 337-350.

Oketch, H., Njihia, J., & Wausi, A. (2014). E-Learning Readiness Assessment Model In Kenyas' Higher Education Institutions: A Case Study Of University Of Nairobi. International Journal of Scientific Knowledge.

Ong, C.-S., Lai, J., & Wang, Y. (2004). Factors affecting engineers' acceptance of asynchronous e-Learning systems in high-tech companies. Information & management, 795-804.

Pamukti, U., Hartanto, R., & Winarno, W. (2017). Model Analisis Kesiapan Individu dalam Penerapan Manajemen Pengetahuan di Instansi Pemerintah. CITEE.

Parasuraman, A. (2000). Technology Readiness Index (TRI) a Multiple-Item Scale to Measure Readiness to Embrace New Technologies. Journal of Service Research, 307-320.

Peffers, K., Tuunanen, T., Rothenberger, M., & Chatterjee, S. (2007). A Design Science Research Methodology for Information Systems Research. Journal of Management Information Systems, 45-78.

Standish. (2014). Chaos Report. London.

Steel, C. (2009). Reconciling university teacher beliefs to create learning designs for LMS environments. Australasian Journal of Educational Technology, 399-420.

Stockley, D. (2003). E-Learning Definition and Explanation. Diambil kembali dari http://derekstockley.com.au/e-Learning-definition.html

Wannemacher, K. (2006). Functional Differentiation of Incentives for E-teaching at Universities. Current Developments in Technology-Assisted Education, 72-76.

Watts, N. (2007). Bringing online learning to a research-intensive university. Diambil kembali dari http://elearnmag.acm.org/featured.cfm?aid=1291534

Wuryanto, N., & Insani, N. (2013). Tingkat Kesiapan (Readiness) Implementasi E-Learning Disekolah Menengah Atas Kota Yogyakarta. Jurnal Pendidikan Matematika dan Sains.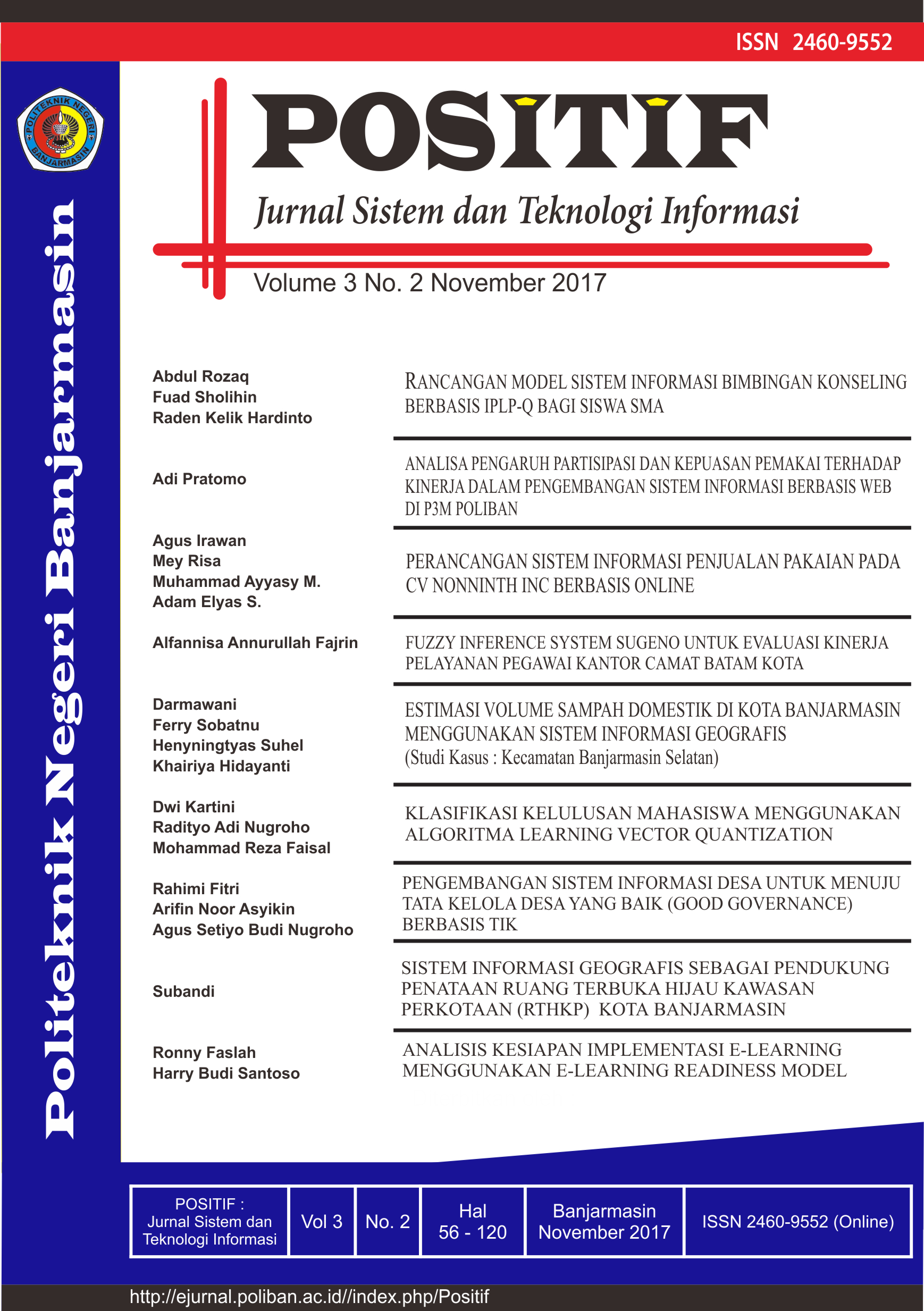 Downloads
License
Authors who publish with Positif : Jurnal Sistem dan Teknologi Informasi agree to the following terms:
Authors retain copyright and grant the journal right of first publication with the work simultaneously licensed under a Creative Commons Attribution License that allows others to share the work with an acknowledgement of the work's authorship and initial publication in this journal.
Authors are able to enter into separate, additional contractual arrangements for the non-exclusive distribution of the journal's published version of the work (e.g., post it to an institutional repository or publish it in a book), with an acknowledgement of its initial publication in this journal.
Authors are permitted and encouraged to post their work online (e.g., in institutional repositories or on their website) prior to and during the submission process, as it can lead to productive exchanges, as well as earlier and greater citation of published work.

This work is licensed under a Creative Commons Attribution 4.0 International License.