INDENTIFIKASI KETERSEDIAAN SANITASI PERMUKIMAN DAERAH SEMPADAN SUNGAI
Keywords:
Keywords: Sanitation, River Border, GIS, Southern Kelayan
Abstract
Kelurahan Kelayan Selatan merupakan salah satu area berisiko tinggi dalam permasalahan air limbah domestik. Permasalahan air limbah domestik yang masih dilakukan masyarakat ialah, masyarakat yang kurang peduli dengan cara pengelolaan limbah rumah tangga/permukiman. Kebiasaan masyarakat yang sulit dirubah yaitu bermukim di bantaran sungai, karena dirasa sudah menjadi kebiasaan dari turun temurun membuat kebiasaan ini sulit ditinggalkan. Pengelolaan air limbah yang seadanya merupakan pemahaman yang salah dalam pengelolaan limbah cair, hal tersebut dipengaruhi oleh faktor tingkat ekonomi masyarakat yang masih rendah.
Metode yang digunakan dengan analisis deskriptif yang disajikan secara spasial dengan melihat beberapa faktor – faktor ketersediaan sanitasi seperti sarana air bersih, pengelolaan sampah, pembuangan kotoran, dan pembuangan limbah cair rumah tangga.
Hasil menunjukkan bahwa ketersediaan sanitasi pada permukiman sekitar sempadan sungai pada kelurahan Kelayan Selatan yang memenuhi syarat adalah faktor sarana air bersih sebesar 97% dan pengelolaan sampah sebesar 76%, sedangkan faktor sanitasi yang tidak memenuhi syarat adalah sarana pembuangan kotoran (99%) dan limbah cari rumah tangga (100%), hal ini dikarenakan masyarakat mayoritas membuang kedua faktor tersebut langsung ke sungai.
Downloads
Download data is not yet available.
References
Aderoju, O. M., Dias, G. A., & Gonçalves, A. J. (2020). A GIS-based analysis for sanitary landfill sites in Abuja, Nigeria. Environment, Development and Sustainability, 22(1), 551–574. https://doi.org/10.1007/s10668-018-0206-z
Devesa, F., Comas, J., Turon, C., Freixó, A., Carrasco, F., & Poch, M. (2009). Scenario analysis for the role of sanitation infrastructures in integrated urban wastewater management. Environmental Modelling and Software, 24(3), 371–380. https://doi.org/10.1016/j.envsoft.2008.08.003
Karlson, M. (2012). Assessing GIS-based indicator methodology for analyzing the physical vulnerability of water and sanitation infrastructure. 42.
Ordinioha, B., & Owhondah, G. (2013). Sanitation facilities and hygiene practices in a semi-urban community. The Nigerian Health Journal, 8(1), 10–96.
Pemerintah Kota Banjarmasin, S. S. K. B. 2020-2024. (n.d.). Kata Pengantar.
Velasco Sayre, E., & Christian Zayas Sayre, J. (2011). Sanitation Solutions for Flooded Zones: The WAND Foundation Experience. Water, Agroforestry, Nutrition and Development Foundation (WAND), 1–23. papers2://publication/uuid/9521B321-CB62-4DDD-BE04-E567321F6BA1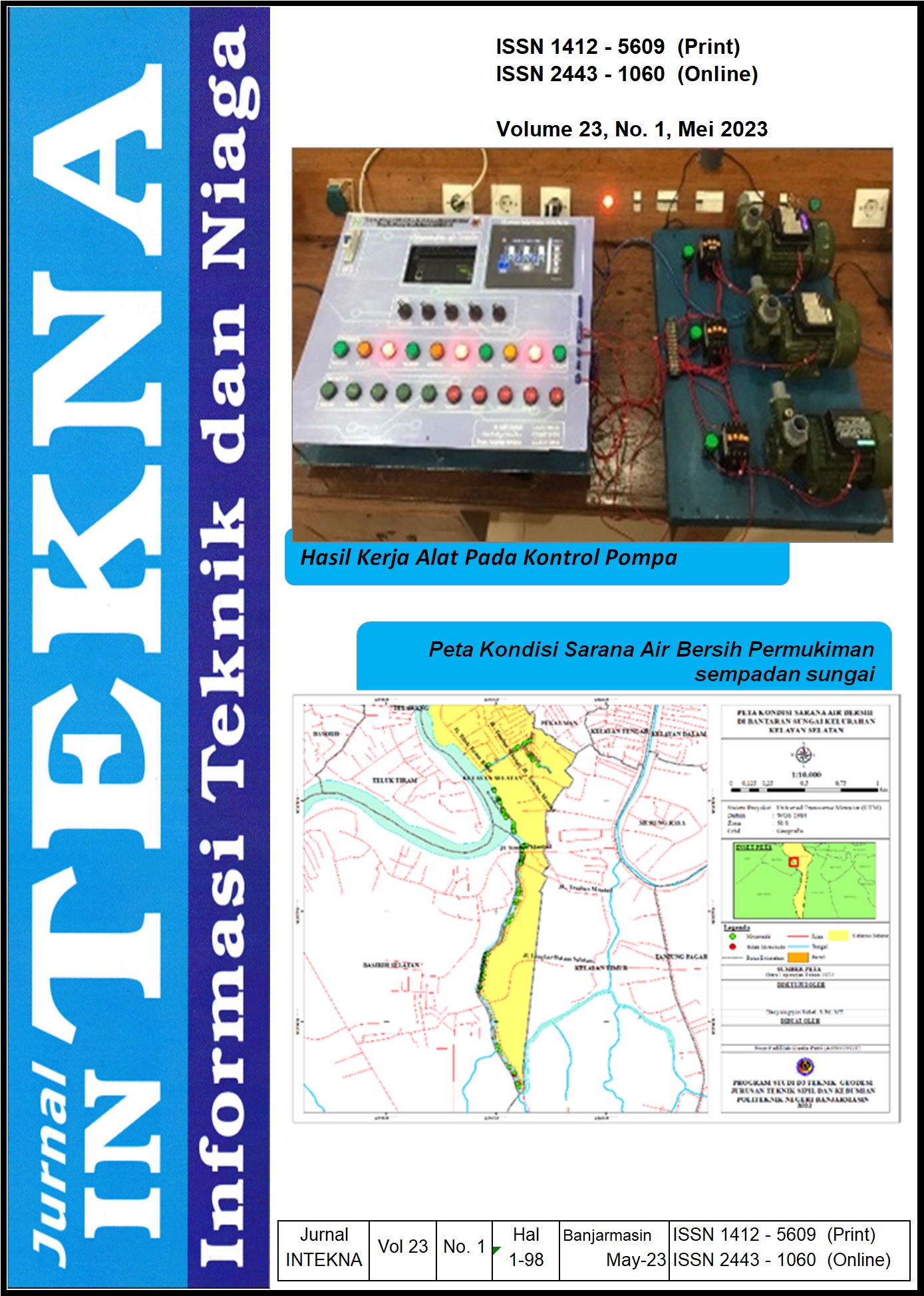 Downloads
How to Cite
Suhel, H., Arif Eko Wibawanto, & Noor Fadillah Gustia Putri. (2023). INDENTIFIKASI KETERSEDIAAN SANITASI PERMUKIMAN DAERAH SEMPADAN SUNGAI. Jurnal INTEKNA : Informasi Teknik Dan Niaga, 23(1), 45–57. Retrieved from https://ejurnal.poliban.ac.id/index.php/intekna/article/view/1469