The Effect of Rise Husk Ash on Concrete Mixing Quality Formula
Hurul 'Ain

Politeknik Negeri Ketapang

Alan Putranto

Betti Ses Eka Polonia

Ahmad Ravi
Keywords:
Rice Husk, Concrete, Compressive strength
Abstract
The effect of the addition of rice husk ash (rice husk ash) to the K-175 formula quality concrete mixture, as an aggregate mixture to the concrete compressive strength test using a Compression Testing Machine to get the compressive strength value of concrete and can be used as an alternative material as an additional material in making concrete in improving the quality of building construction. The study uses K-175 concrete quality characteristics as a test material. Test object in the shape of a cube with a size of 15cm x 15cm. With 4 variations in levels of addition of rice husk ash by 0%, 1.5%, 3.5%, and 5% by weight of cement. The husk ash used is the husk ash that escaped the 2.36 mm filter size. From each type of mixture made 9 test specimens, every 3 specimens for the age of concrete 7 days, 14 days and 28 days. Concrete mortar design using ASTM method. With material sources using fine aggregate from the Pawan Ketapang River and coarse aggregate from Merak, Banten. Stages of implementation include examining the nature of aggregate materials, sample making, and testing of concrete compressive strength.
Downloads
Download data is not yet available.
References
Annual Book of ASTM Standards Volume 04.02, 2001, Concrete and Aggregates, American Society for Testing and Materials, West Conshohocken PA.
ASTM C 125-1995, Annual Book of ASTM Standards 1995: Vol.04.02, Concrete and Aggregate, Philadelpia: ASTM 1995.
SK SNI T-15-1991-03, Tata Cara Perhitungan Struktur Beton Untuk Bangunan Gedung.
Standar Industri Indonesia (SII) 0013-1981, Mutu dan Cara Uji Semen Portland.
Standar Nasional Indonesia (SNI) 03-1968-1990, Metode Pengujian Tentang Analisis Saringan Agregat Halus Dan Agregat Kasar.
Standar Nasional Indonesia (SNI) 03-1970-1990, Metode Pengujian Berat Jenis Dan Penyerapan Air Agregat Kasar.
Standar Nasional Indonesia (SNI) 03-1971-1990, Metode Pengujian Berat Jenis Dan Penyerapan Air Agregat Halus.
Standar Nasional Indonesia (SNI) 03-1972-2008, Metode Pengujian Slump Beton.
Standar Nasional Indonesia (SNI) 03-1974-1990, Metode Pengujian Kuat Tekan Beton.
Standar Nasional Indonesia (SNI) 03-2493-1991, Metode Pengujian Keausan Agregat Dengan Mesin Los Angeles.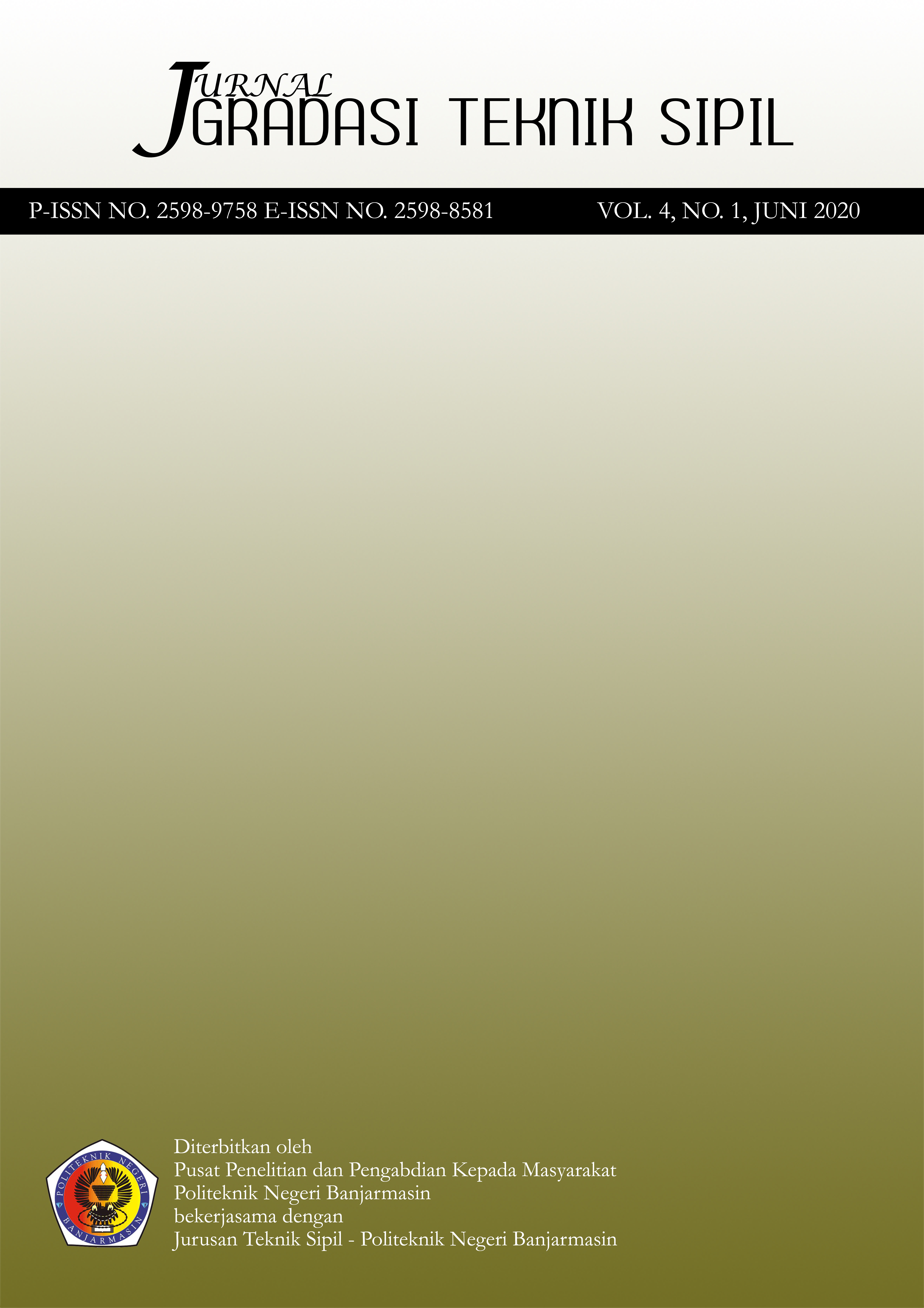 Copyright (c) 2020 Hurul 'Ain, Alan Putranto, Betti Ses Eka Polonia, Ahmad Ravi
This work is licensed under a Creative Commons Attribution-NonCommercial-ShareAlike 4.0 International License.
Hak publikasi atas semua materi naskah jurnal yang diterbitkan/dipublikasikan dalam Jurnal Teknik Sipil ini dipegang oleh Dewan Redaksi dengan sepengetahuan penulis (hak cipta tetap dimiliki penulis).
Ketentuan legal formal untuk akses artikel digital jurnal elektronik ini tunduk pada ketentuan lisensi Creative Commons Attribution-ShareAlike (CC BY-SA), yang berarti Jurnal Teknik Sipil berhak menyimpan, mengalih media/format-kan, mengelola dalam bentuk pangkalan data (database), merawat, dan mempublikasikan artikel tanpa meminta ijin dari Penulis selama tetap mencantumkan nama Penulis sebagai pemilik Hak Cipta.
Naskah yang diterbitkan/dipublikasikan secara cetak dan elektronik bersifat open access untuk tujuan pendidikan, penelitian, dan perpustakaan. Selain tujuan tersebut, dewan redaksi tidak bertanggung jawab atas pelanggaran terhadap hukum hak cipta.