Pengaruh Agregat Gabungan Terhadap Hasil Marshall Untuk HRS-WC Dan HRS-Base
Keywords:
aggregate, ashpalt, hot rolled sheet wearing course (HRS-WC), hot rolled sheet base (HRS-Base)
Abstract
The cause of the failure and damage to the roughness of the road is because the use of asphalt with high penetration value concurent with low levels mixture asphalt and the implementation of which has not been in compliance with the existing requirements, thus reduce the age of the road plan. The most commont asphalt roughness layer failure is permanent deformation AS a result of less stability and crack due to fatigue. One of the main consideration in determe the quality of asphalt mixture is the strength of the aggregate in order to endure in compliance with road planning. The issues discussed in this research is how the combined aggregate influence towards optimum levels of asphalt and asphalt mixture stability value. The research sample is asphalt penetration 60/70, coarse aggregate Awang Bangkal and Katunun-Banjarbaru Pelaihari, fine aggregate is Barito sand, filler Awang Bangkal rock burst and Tiga Roda Cement, witch total of 48 samples with levels 5-7% asphalt. Parameters of mix are stability , flow of air cavities, Voids in Mix (VIM), Void in Mineral aggeggate (VMA), Void Filled with Asphalt (VFA), Marshall Quotient (MQ), and VIM refusal to AC-WC determined from analysis of Marshall. The result achieved is the reduction in consumption levels of optimum asphalt of 0.5% for combined aggregate Awang Bangkal and Katunun Lataston mixed HRS-WC and a reduction in consumption levels of optimum asphalt of 0.2% on the mix HRS-Base on the minimum spesification 800 kg.
Downloads
Download data is not yet available.
References
……... 2010. Spesifikasi Divisi 6.3 Campuran Beraspal Panas. Direktur Jenderal Bina Marga. Jakarta.
Departemen Pekerjaan Umum Direktorat Jendral Bina Marga. 1983. Petunjuk Pelaksanaan Lapis Perkerasan. Jakarta.
Hendarsin, Shirley. L. 2000. Perencanaan Teknik Jalan Raya. Politeknik Negeri Bandung Jurusan Teknik Sipil. Bandung.
Hifni, M. 1991. Metode Statistika. Fakultas Teknik Universitas Brawijaya. Malang.
Radam F, Iphan. 2008. Bahan Ajar: Rekayasa Lalu Lintas. Universitas Lambung Mangkurat Press. Banjarmasin
Sukirman, S. 1999. Perkerasan Lentur Jalan Raya. Nova. Bandung.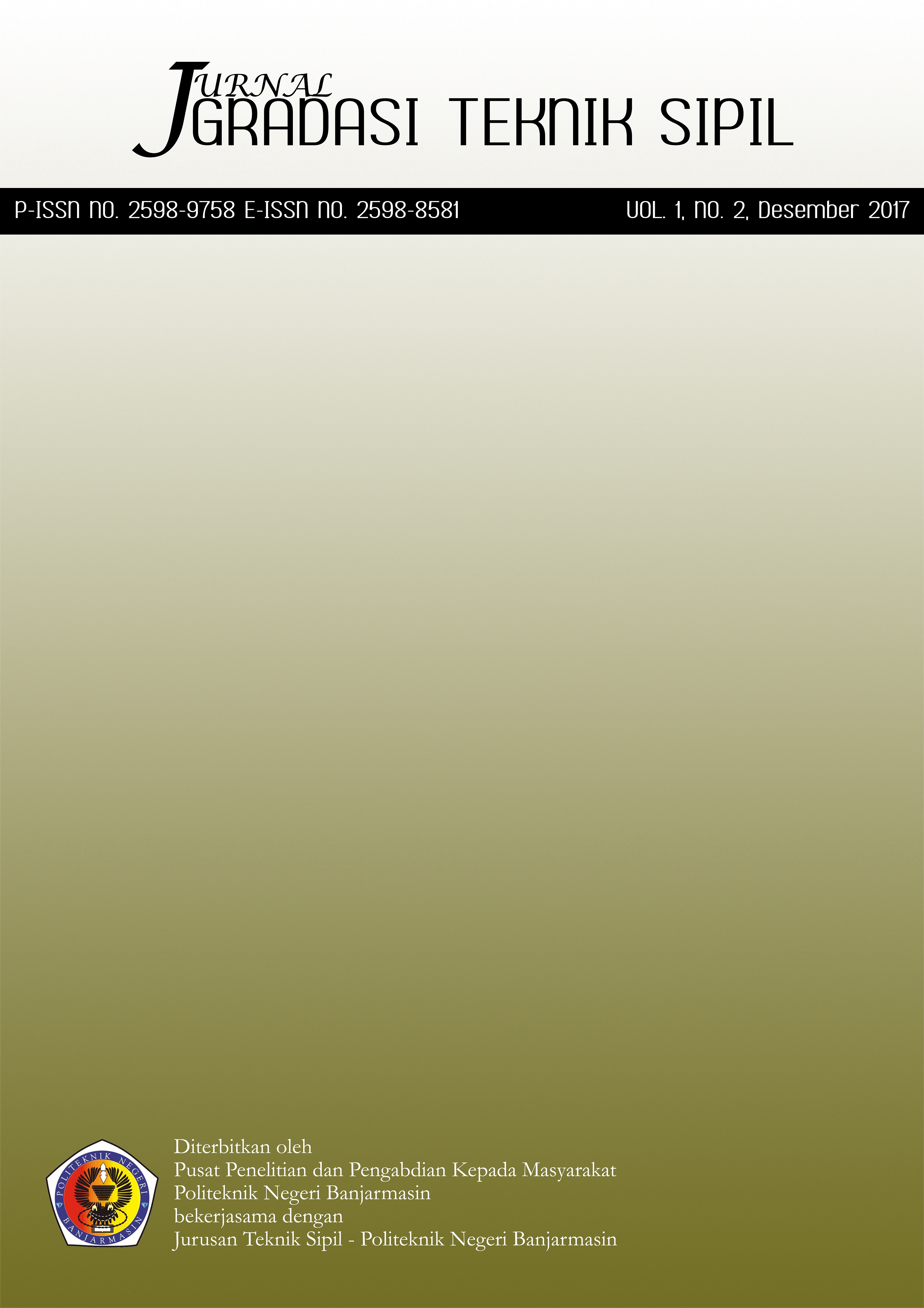 License
Hak publikasi atas semua materi naskah jurnal yang diterbitkan/dipublikasikan dalam Jurnal Teknik Sipil ini dipegang oleh Dewan Redaksi dengan sepengetahuan penulis (hak cipta tetap dimiliki penulis).
Ketentuan legal formal untuk akses artikel digital jurnal elektronik ini tunduk pada ketentuan lisensi Creative Commons Attribution-ShareAlike (CC BY-SA), yang berarti Jurnal Teknik Sipil berhak menyimpan, mengalih media/format-kan, mengelola dalam bentuk pangkalan data (database), merawat, dan mempublikasikan artikel tanpa meminta ijin dari Penulis selama tetap mencantumkan nama Penulis sebagai pemilik Hak Cipta.
Naskah yang diterbitkan/dipublikasikan secara cetak dan elektronik bersifat open access untuk tujuan pendidikan, penelitian, dan perpustakaan. Selain tujuan tersebut, dewan redaksi tidak bertanggung jawab atas pelanggaran terhadap hukum hak cipta.