RASIO PENAMBAHAN BIAYA TERHADAP PENINGKATAN KEKUATAN BETON PADA METODE CARBON FIBER REINFORCED POLYMER
Keywords:
Kenaikan kuat tekan beton, metode CFRP, penambahan biaya, Rasio
Abstract
Salah satu cara untuk meningkatkan kuat tekan beton yang sudah mengeras adalah dengan metode Carbon Fiber Reinforced Polymer (CFRP). Biaya penerapan metode CFRP relatif mahal. Penelitian ini mencoba memberikan data awal sebagai acuan untuk menentukan perlu atau tidaknya penerapan metode CFRP pada suatu komponen struktur beton. Tujuan dari penelitian ini adalah untuk menganalisis perbandingan (rasio) antara penambahan biaya dan peningkatan kuat tekan beton menggunakan metode CFRP. Analisis yang digunakan adalah analisis statistik deskriptif, dengan menggunakan nilai rata-rata (mean) sebagai dasar perhitungannya. Penelitian ini menyimpulkan bahwa rasio antara penambahan biaya dengan kenaikan kuat tekan beton dengan metode CFRP adalah 678.615 rupiah untuk setiap penambahan 1 kg/cm² kuat tekan beton. Berdasarkan komponen struktur, rasio untuk balok, pelat, dan kolom beton adalah masing-masing 1.077.299; 1.411.709 dan 330.376 rupiah per kg/cm² kuat tekan beton.
Downloads
Download data is not yet available.
References
Abisuga, A. O., Famakin, I. O., and Oshodi, O. S. (2016). Educational building conditions and the health of users. Construction Economics and Building, 16(4), pp.19-34.
Achmad, K., Respati, S. W., dan Sunarno, S. (2016). Pemanfaatan material lokal dengan perkuatan CFRP untuk penanganan longsor di wilayah Balikpapan Kalimantan Timur. JTT (Jurnal Teknologi Terpadu), 4(2), pp.58-65.
Aprisandi, D., Hariyanto, B., dan Masturoh, T. S. (2021). Perencanaan biaya dan waktu terhadap perkuatan struktur bangunan bertingkat dengan FRP (Fiber Reinforced Polymer). Journal of Sustainable Civil Engineering (JOSCE), 3(02).
Aslam, H. M. U., Sami, A., and Raza, A. (2021). Axial compressive behavior of damaged steel and GFRP bars reinforced concrete columns retrofitted with CFRP laminates. Composite Structures, 258, 113206.
Chen, Y. X., Gao, K. W., and Sun, Y. H. (2015). Application and prospect of CFRP. In Proceedings of the 2nd International Workshop on Materials Engineering and Computer Sciences (IWMECS), Jinan, China, October, pp.10-11.
Ha, G. J., Kim, Y. Y., and Cho, C. G. (2008). Groove and embedding techniques using CFRP trapezoidal bars for strengthening of concrete structures. Engineering Structures, 30(4), pp.1067-1078.
Kazaz, A., Ulubeyli, S., and Turker, F. (2004). The quality perspective of the ready-mixed concrete industry in Turkey. Building and Environment, 39(11), pp.1349-1357.
Khalid-Heiza, A. N., Meleka, N., and Tayel, M. (2014, March). State-of-the art review: Strengthening of reinforced concrete structures–different strengthening techniques. In Sixth International Conference on Nano-Technology in Construction, 6, pp.22-24.
Lobo, C., Lemay, L., and Obla, K. (2006). Performance-based specifications for concrete. In Building Integration Solutions, pp.1-13.
Mahmood, K. (2007). Factors affecting reinforced concrete construction quality in Pakistan. In CBM-CI International Workshop, pp.374-380. Citeseer Karachi, Pakistan.
Malagavelli, V., and Patura, N. R. (2011). Strength characteristics of concrete using solid waste an experimental investigation. International Journal of Earth Sciences and Engineering, 4(6).
Mortazavi, A. A., Pilakoutas, K., and Son, K. S. (2003). RC column strengthening by lateral pre-tensioning of FRP. Construction and Building Materials, 17(6-7), pp.491-497.
Nama, P., Jain, A., Srivastava, R., and Bhatia, Y. (2015). Study on causes of cracks and its preventive measures in concrete structures. International Journal of Engineering Research and Applications, 5(5), pp.119-123.
Oduola, R. O. (2010). Poor quality concrete: A major challenge in the building construction industry in Nigeria. In Structures and Architecture-Proceedings of the 1st International Conference on Structures and Architecture, pp.1642-1650.
PBI (1971). Peraturan Beton Indonesia 1971. Departemen Pekerjaan Umum dan Tenaga Listrik Republik Indonesia, Bandung.
Peck, R., and Devore, J. L. (2011). Statistics: The exploration and analysis of data. Cengage Learning.
Prastyo, N.S.D, Prawesti, R., Sugiharto, S., dan Sukoyo, S. (2019). Pengaruh penambahan serbuk ban bekas terhadap parameter Marshall pada aspal beton campuran panas lapis aus AC-WC perkuatan struktur kolom dan balok akibat perubahan layout ruangan dengan metode CFRP (Studi Kasus: Pembangunan masjid As-Shohabat Tembalang). Wahana Teknik Sipil: Jurnal Pengembangan Teknik Sipil, 23(1), pp.29-36.
Shannag, M. J., and Higazey, M. (2020). Strengthening and repair of a precast reinforced concrete residential building. Civil Engineering Journal, 6(12), pp.2457-2473.
SNI (2002). Standar Nasional Indonesia 03-2847-2002: Tata cara perhitungan struktur beton untuk bangunan gedung. Badan Standar Nasional, Bandung.
Van Den Einde, L., Zhao, L., and Seible, F. (2003). Use of FRP composites in civil structural applications. Construction and Building Materials, 17(6-7), pp.389-403.
Vefago, L. H. M., and Avellaneda, J. (2013). Recycling concepts and the index of recyclability for building materials. Resources, Conservation and Recycling, 72, pp.127-135.
Wariyatno, N. G., dan Haryanto, Y. (2013). Kuat tekan dan kuat tarik belah sebagai nilai estimasi kekuatan sisa pada beton serat kasa aluminium akibat variasi suhu. Dinamika Rekayasa, 9(1), pp.21-28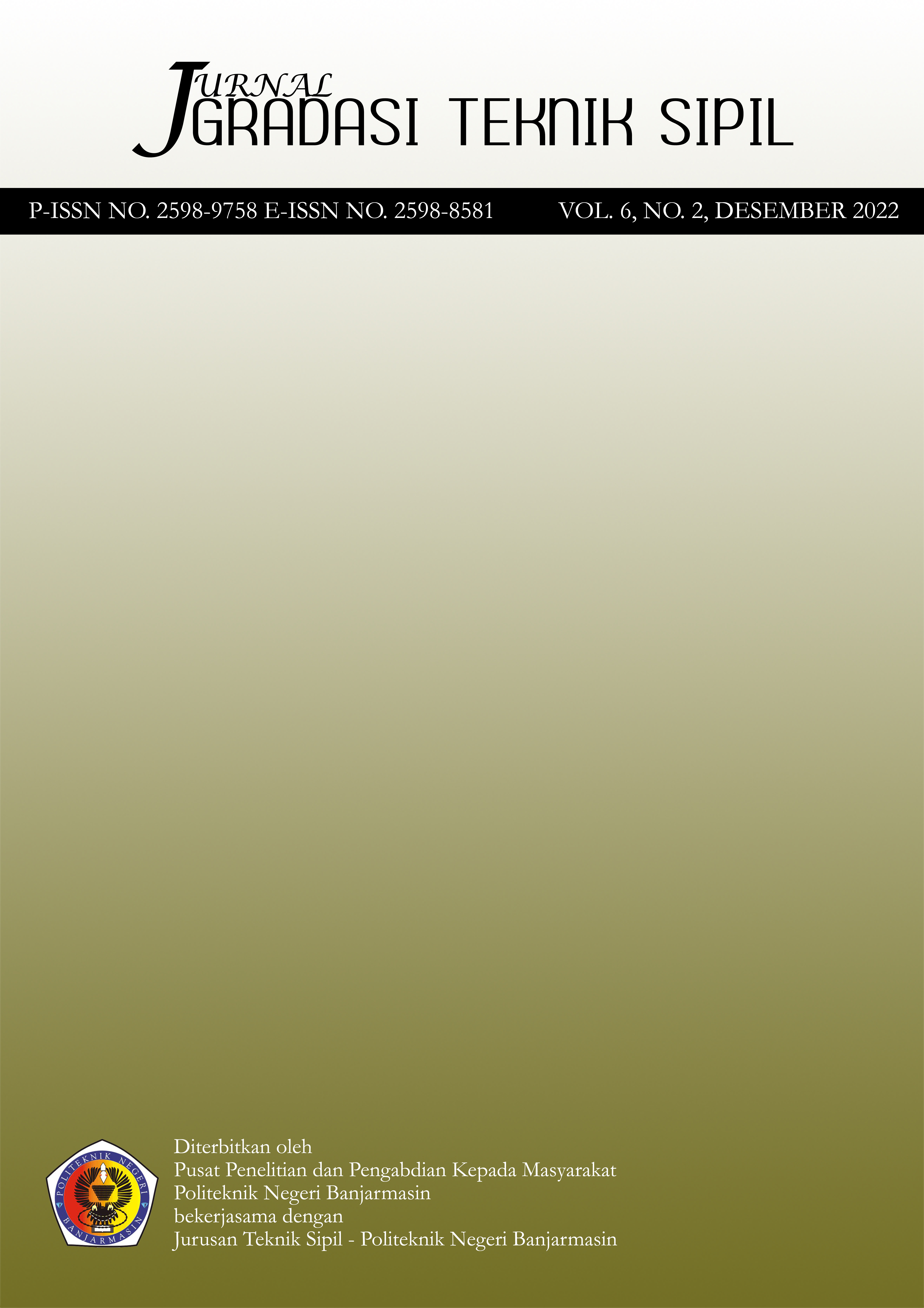 Downloads
License
Copyright (c) 2022 Dedit P. Sektianto, Bernathius Julison, Antas H. Sinaga
This work is licensed under a Creative Commons Attribution-NonCommercial-ShareAlike 4.0 International License.
Hak publikasi atas semua materi naskah jurnal yang diterbitkan/dipublikasikan dalam Jurnal Teknik Sipil ini dipegang oleh Dewan Redaksi dengan sepengetahuan penulis (hak cipta tetap dimiliki penulis).
Ketentuan legal formal untuk akses artikel digital jurnal elektronik ini tunduk pada ketentuan lisensi Creative Commons Attribution-ShareAlike (CC BY-SA), yang berarti Jurnal Teknik Sipil berhak menyimpan, mengalih media/format-kan, mengelola dalam bentuk pangkalan data (database), merawat, dan mempublikasikan artikel tanpa meminta ijin dari Penulis selama tetap mencantumkan nama Penulis sebagai pemilik Hak Cipta.
Naskah yang diterbitkan/dipublikasikan secara cetak dan elektronik bersifat open access untuk tujuan pendidikan, penelitian, dan perpustakaan. Selain tujuan tersebut, dewan redaksi tidak bertanggung jawab atas pelanggaran terhadap hukum hak cipta.