Analisa Data Pesawat Terbang Menggunakan Metode Elimination Void Data dan Smoothing Data
Keywords:
Data Pesawat Terbang, Elimination Void Data, Smoothing Data
Abstract
Perkembangan transportasi udara saat ini semakin meningkat, sehingga data yang disediakan juga semakin banyak. Oleh karena itu perlu dilakukan analisa-analisa terkait data penerbangan yang ada. Sehingga hasil analisa tersebut sangat berguna sebagai bahan evaluasi pihak otoritas penerbangan. Penelitian ini melakukan analisa terhadap data pesawat yang di sebarkan secara periodik menggunakan sistem yang bernama Automatic Dependent Surveillance-Broadcast (ADS-B). Hasil dari penelitian ini menunjukkan bahwa data penerbangan yang sangat besar dapat direduksi sehingga dapat menghemat ruang penyimpanan data dari pihak tertentu tanpa mengurangi informasi yang di peroleh sebelumnya.
Downloads
Download data is not yet available.
References
M. Schafer, M. Strohmeier, V. Lenders, I. Martinovic dan M. Wilhelm, "Bringing up OpenSky: A large-scale ADS-B sensor network for research," dalam Proceedings of the 13th international symposium on Information processing in sensor networks, 2014.
M. Strohmeier, M. Schafer, V. Lenders dan I. Martinovic, "Realities and challenges of nextgen air traffic management: the case of ADS-B," IEEE Communications Magazine, pp. 111-118, 2014.
L. Li, S. Das, R. John Hansman, R. Palacios dan A. N. Srivastava, "Analysis of Flight Data Using Clustering Techniques for Detecting Abnormal Operations," Journal of Aerospace information systems, vol. 12, pp. 587-598, 2015.
L. Li, R. J. Hansman, R. Palacios dan R. Welsch, "Anomaly detection via a Gaussian Mixture Model for flight operation and safety monitoring," Transportation Research Part C: Emerging Technologies, vol. 64, pp. 45-57, 2016.
G. Li, A. Rai, H. Lee dan A. Chattopadhyay, "Operational Anomaly Detection in Flight Data Using a Multivariate Gaussian Mixture Model," dalam ANNUAL CONFERENCE OF THE PROGNOSTICS AND HEALTH MANAGEMENT SOCIETY 2018, 2018.
M. Schafer, M. Strohmeier, M. Smith, M. Fuchs, V. Lenders, M. Liechti dan I. Martinovic, "OpenSky report 2017: Mode S and ADS-B usage of military and other state aircraft," dalam IEEE/AIAA 36th Digital Avionics Systems Conference (DASC), 2017.
W. Semke, N. Allen, A. Tabassum, M. McCrink, M. Moallemi, K. Snyder, E. Arnold, D. Stott dan M. G. Wing, "Analysis of Radar and ADS-B Influences on Aircraft Detect and Avoid (DAA) Systems," Aerospace, vol. 4, no. 3, p. 49, 2017.
"General Aviation News," 29 Juni 2018. [Online]. Available: https://generalaviationnews.com/2018/06/29/aml-stc-for-stratus-ads-b-transponders-expanded/. [Diakses 12 Januari 2019].
Nubifer, "Wikimedia Commons," 20 April 2014. [Online]. Available: https://commons.wikimedia.org/wiki/File:Flightradar24_ADS-B_receiver.png. [Diakses 12 Januari 2019].
Y. Nurhayati dan S. Susanti, "Implementasi Automatic Dependent Surveillance Broadcast (ADS-B) di Indonesia," Warta Ardhia, vol. 40, pp. 147-162, 2014.
R. Setiawan, "detikNews," 26 Juli 2018. [Online]. Available: https://news.detik.com/berita/4135541/kemenhub-wajibkan-pesawat-dilengkapi-ads-b. [Diakses 12 Januari 2019].
A. S. Devi, I. K. G. D. Putra dan I. M. Sukarsa, "Implementasi Metode Clustering DBSCAN pada Proses Pengambilan Keputusan," Lontar Komputer: Jurnal Ilmiah Teknologi Informasi, pp. 185-191, 2015.
D. Rohpandi, A. Sugiharto dan M. Y. S. Jati, "Klasifikasi Citra Digital Berbasis Ekstraksi Ciri Berdasarkan Tekstur Menggunakan Glcm Dengan Algoritma K-Nearest Neighbor," Voice Of Informatics, vol. 7, pp. 79-85, 2018.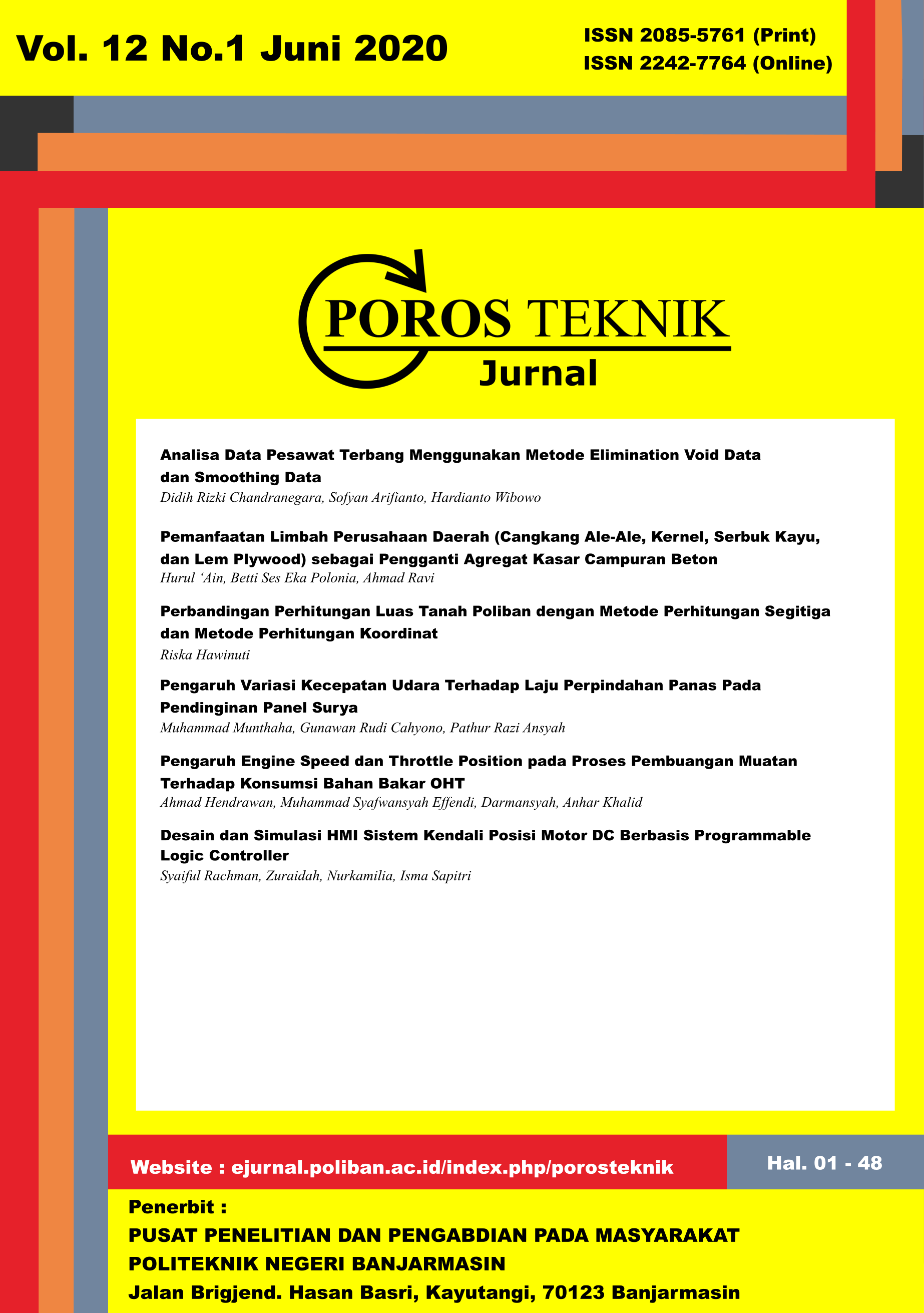 Downloads
How to Cite
Chandranegara, D. R., Arifianto, S., & Wibowo, H. (2020). Analisa Data Pesawat Terbang Menggunakan Metode Elimination Void Data dan Smoothing Data. POROS TEKNIK, 12(1), 01–07. https://doi.org/10.31961/porosteknik.v12i2.874
Section
Artikel (Indonesia)