Desain dan Implementasi Arduino-Android Untuk Efisiensi Penggunaan Listrik Pada Smarthome
Keywords:
Android, Arduino, Bluetooth, Internet of Things, Smarthome
Abstract
Smarthome dapat memungkinkan komputer tertanam yang dapat mengontrol peralatan rumah tangga listrik secara otomatis. Kontrol otomatis terbatas pada penjadwalan bagaimana waktu rumah tangga listrik dapat aktif dan tidak aktif. Pengontrol menggunakan Bluetooth sebagai modul komunikasi antara Android dan Arduino. Dari aplikasi Android, pengguna dapat mengontrol Arduino untuk mengatur timer perangkat elektronik yang aktif dan tidak aktif. Untuk ide-ide tersebut, penelitian ini mengimplementasikan cara mengurangi penggunaan listrik untuk smarthome. Implementasi perangkat ini menggunakan 4 lampu untuk 5 rumah. Hasil dari penelitian ini adalah aplikasi Android dapat mengatur timer untuk perangkat listrik aktif dan tidak aktif menggunakan Arduino dan penggunaan listrik dapat berkurang hingga 14,3% atau Rp7.043 dalam sebulan.
Downloads
Download data is not yet available.
References
[1] M. Q. Aldossari and A. Sidorova, "Consumer Acceptance of Internet of Things (IoT): Smart Home Context," J. Comput. Inf. Syst., vol. 00, no. 00, pp. 1–11, 2018.
[2] M. Alaa, A. A. Zaidan, B. B. Zaidan, M. Talal, and M. L. M. Kiah, "A review of smart home applications based on Internet of Things," J. Netw. Comput. Appl., vol. 97, pp. 48–65, 2017.
[3] M. Mowad, A. Fathy, and A. Hafez, "Smart home automated control system using android application and microcontroller," Int. J. Sci. Eng. Res., vol. 5, no. 5, pp. 935–939, 2014.
[4] S. Das, S. Ganguly, S. Ghosh, R. Sarker, and D. Sengupta, "A bluetooth based sophisticated home automation system using smartphone," 2016 Int. Conf. Intell. Control. Power Instrumentation, ICICPI 2016, pp. 236–240, 2017.
[5] Y. Amri and M. A. Setiawan, "Improving Smart Home Concept with the Internet of Things Concept Using RaspberryPi and NodeMCU," IOP Conf. Ser. Mater. Sci. Eng., vol. 325, no. 1, 2018.
[6] B. Pandya, M. Mehta, and N. Jain, "Android Based Home Automation System Using Bluetooth & Voice Command," Int. Res. J. Eng. Technol., vol. 03, no. 03, pp. 3–5, 2016.
[7] A. Kareem and K. Abdul, "Bluetooth Based Smart Home Automation System using Arduino UNO Microcontroller," vol. 72, no. 27, 2017.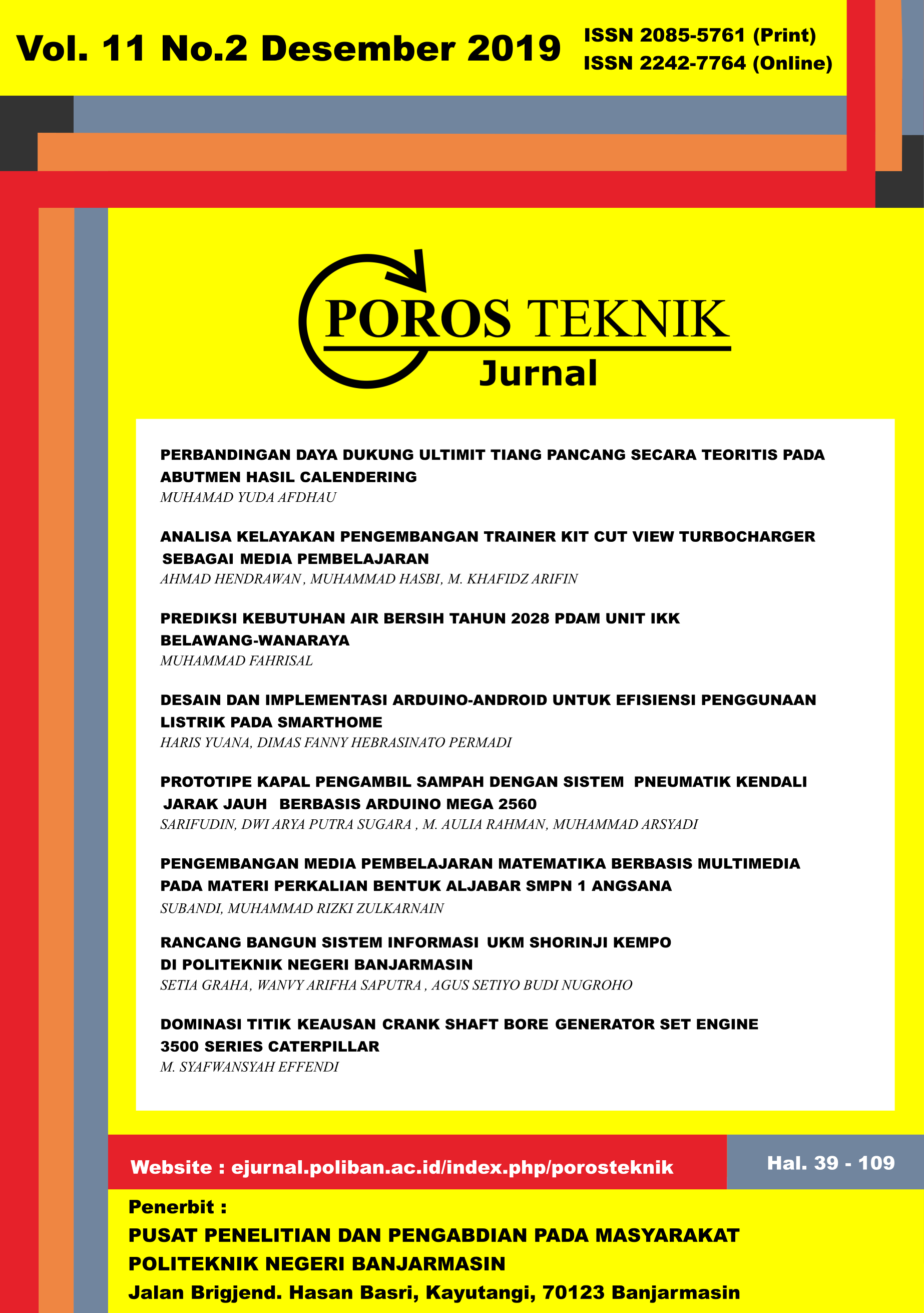 Downloads
How to Cite
Yuana, H., & Permadi, D. F. H. (2019). Desain dan Implementasi Arduino-Android Untuk Efisiensi Penggunaan Listrik Pada Smarthome. POROS TEKNIK, 11(2), 64–74. https://doi.org/10.31961/porosteknik.v11i2.865
Section
Artikel (Indonesia)