Kendali Otomatis Pengisian Tangki Air 3 Tingkat Menggunakan Monitoring HMI Berbasis PLC
Simulasi Kendali Otomatis Pengisian Tangki Air 3 Tingkat Menggunakan Monitoring Hmi Berbasis Plc
Keywords:
water level, control, monitoring
Abstract
Air storage in people's daily lives is usually in the form of water tendons. Where the process of filling water into the tank using a manual system. It often happens that charging is useless because it uses the manual method and not a programmed system. Vain charging is the occurrence of very large waste of water. If this continues to be done, there will be a waste of ground water.
Against the background of this existing problem, it is very necessary to create an automatic control system for filling the water tank. Where this automatic control system is expected to increase overall efficiency, both in terms of electricity use, air usage, and extending the life of the pump motor.
The results of the tool design which is made with automatic system control on two pumps with three water tanks get very efficient results. Where control work is monitored and controlled by an HMI. The water level in the tank will be 9 conditions in the water tank whether it is empty or full. There are three pieces of information that can be obtained by the HMI, namely the water level indicator in high, medium and low conditions.
Downloads
Download data is not yet available.
References
M.Budiyanto, A.Wijaya, Pengenalan Dasar Dasar PLC (Progammable Logic Control),Gava Media Yogyakarta 2003
Setiawan I, PLC (Progammable Logic Control)dan Teknik Pereancangan system control, Penerbit Andi, Yogyakarta, 2006
Boltom, William, "Programmable Logic Controller (PLC) Sebuah Pengantar Edisi Ketiga". Erlangga., Jakarta, 2004
Tri Prabowo, Panduan Belajar HMI ( Human Mechine Interface Beginner), Jakarta, 2018
Haryanto, Heri. Hidayat, Sarif "Perancangan HMI (Human Machine Interface) Untuk Pengendalian Kecepatan Motor DC" Jurusan Elektro Fakultas, Teknik Universitas Sultan Ageng Tirtayasa, 2012.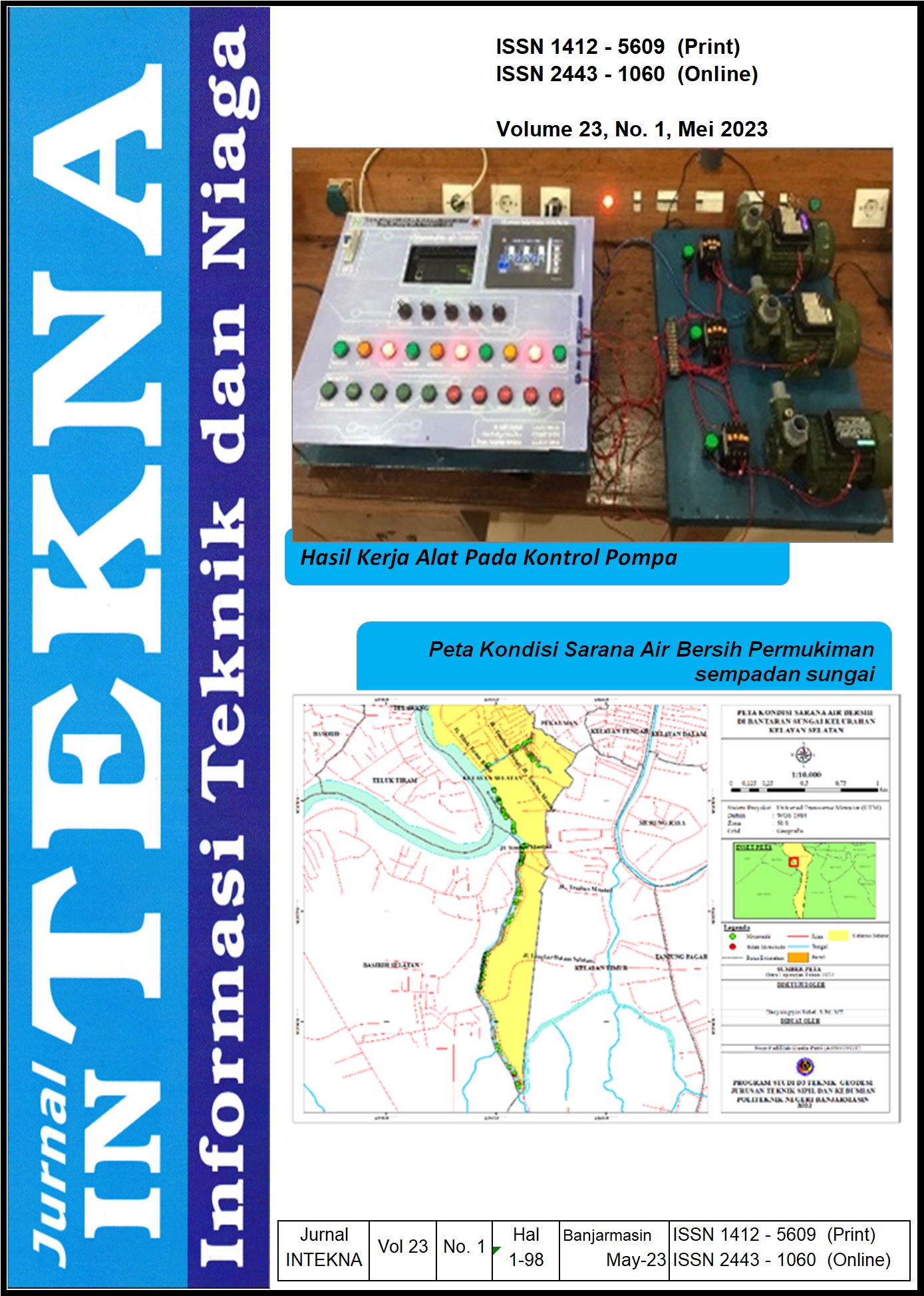 Downloads
How to Cite
Sarifudin, S., Andika, R. A., Ismaya , R. A., & Aryadi , M. (2023). Kendali Otomatis Pengisian Tangki Air 3 Tingkat Menggunakan Monitoring HMI Berbasis PLC: Simulasi Kendali Otomatis Pengisian Tangki Air 3 Tingkat Menggunakan Monitoring Hmi Berbasis Plc. Jurnal INTEKNA : Informasi Teknik Dan Niaga, 23(1), 1–14. Retrieved from https://ejurnal.poliban.ac.id/index.php/intekna/article/view/1802