Pentingnya Kualitas Layanan Dalam Meningkatkan Kepuasan Dan Loyalitas Pelanggan Indihome Banjarmasin
Keywords:
Kualitas layanan, kepuasan konsumen, loyalitas konsumen
Abstract
This study aims to determine the effect of the quality of Indihome service providers in Banjarmasin on customer satisfaction and loyalty. Quantitative research method used in this study. Questionnaires with a Likert scale were distributed to 99 users of Indihome services in Banjarmasin. The sampling method used was convenience sampling by distributing questionnaires at Indihome outlets, Banjarmasin. The data obtained is then processed using path analysis. The findings of this study indicate that the variables reliability and empathy have a significant effect on customer satisfaction. Furthermore, it was also found that the reliability variable also had a significant effect on consumer loyalty
Downloads
Download data is not yet available.
References
Andita LES Putri. (2020). Pengaruh Kualitas Layanan, Kepuasan dan Kepercayaan Terhadap Loyalitas Pelanggan Wifi Indihome Surabaya. Skripsi. Sekolah Tinggi Ilmu Ekonomi Perbanas. Surabaya.
Chen C F. and Meng H.T. (2008). Perceived value satisfaction, and loyalty travel product shoping: lnvolvement as a moderator. Tourism management. Vol.29. Pp 1166-1171
Ejigu, S.N. (2016). E-banking service quality and its impact on customer satisfaction in State Owned Banks in East Gojjam Zone; Ethiopia. Global Journal of Management and Business Research, 16(18), 24-35
Gronroos, C. (1984). A service quality model and its implications. European Journal of Marketing, 18(4), 36-44.
Hana Hanita. (2018). Pengaruh Kepuasan Konsumen Atas Kualitas Pelayanan Terhadap Loyalitas Konsumen Indihome. Skripsi. Universitas Katolik Parahiyangan. Bandung.
Jayaraman, M., Shankar C. & Hor, W. M. (2010). Service quality delivery and its impact on customer satisfaction in the banking sector in Malaysia. International Journal of Innovation, Management and Technology, 1(4), 398-404.
Kementrian Komunikasi & Informatika, (2021).Internet, Primadona Kala Pandemi. https://www.kominfo.go.id/content/detail/36448/internet-primadona-kala-pandemi/0/artikel
Keshavarz, Y & Jamshidi D, (2018) "Service quality evaluation and the mediating role of perceived value and customer satisfaction in customer loyalty", International Journal of Tourism Cities, Vol. 4 Issue: 2, pp.220-244
Kevin Kalfiansyah. (2017). Analisis Pengaruh Kualitas Produk Dan Kualitas Pelayanan Dan Kepuasan Pelanggan Terhadap Loyalitas Pelanggan Indihome di Yogyakarta. Skripsi. Universitas Islam Indonesia. Yogyakarta.
Kohar Sulistiyadi (2019). Peningkatan Kualitas Layanan Indihome Mengunakan Metode Service Quality, Quality Function Deployment Dan Net Promoters Score di PT Telkom Akses. Sustainable Environmental and Optimizing Industry Journal. E-ISSN : 2621-5586. Vol 1, No 2 (2019). https://doi.org/10.36441/seoi.v1i2.179
Lai F., Mitch G, Barry J. Babin. (2009). How quality, value, image and satisfaction create loyalty at a Chinese telecom. Journal of business research. Vol 62. pp 980-986
Leo Dwi Jatmiko. (2021). Ada Pandemi, Indihome Raup Pendapatan Rp. 22,2 Triliun pada 2020. https://teknologi.bisnis.com/read/20210430/101/1388644/ada-pandemi-indihome-raup-pendapatan-rp222-triliun-pada-2020
Mahdi L Damsir. (2019). Pengaruh Kualitas Pelayanan dan Kualitas Produk Terhadap Loyalitas Konsumen Layanan Indihome di Pekanbaru. Skripsi. Universitas Islam Negeri Sultan Syarif Kasim Riau. Pekanbaru
Mohammad, T. S., Asaad, A. K. & Ihab, S. Q. (2018). The impact of e-banking services quality on customers satisfaction moderated by customer trust: a survey on Arab Bank in Amman, Jordan. Journal of AlQuds Open University for Administrative & Economic Research, 3(9), 25-37.
Parasuraman, A., Zeithaml, V. & Berry, L. L. (1988). SERVQUAL: a multiple-item scale for measuring consumer perceptions of service quality. Journal of Retailing, 64(1), 12-40
Qin, H., Prybutok, V. R. (2009). Service Quality, Customer Satisfaction, And Behavioral Intentions In Fast-Food Restaurants. International Journal of Quality and Service Sciences, 1(1): 78-95
Rafki Testy. (2019). Kualitas Pelayanan Jasa Produk Indihome Pada PT. Telekomunikasi Indonesia, TBK. e-Proceeding of Applied Science : Vol.5, No.1 April 2019. ISSN : 2442-5826. https://core.ac.uk/download/pdf/299928321.pdf
Sadaf, F. & Rahela, F. (2019). Service quality to e-service quality: a paradigm shift. Proceedings of the International Conference on Industrial Engineering and Operations Management, Bangkok, Thailand, March 5-7, 1656-1666.
Zeithaml, V. A., Parasuraman, A. & Malhotra, A. (2000). A conceptual framework for understanding e-servicequality: implication for future research and managerialpractice. Marketing Science Institution,Report No. 00-115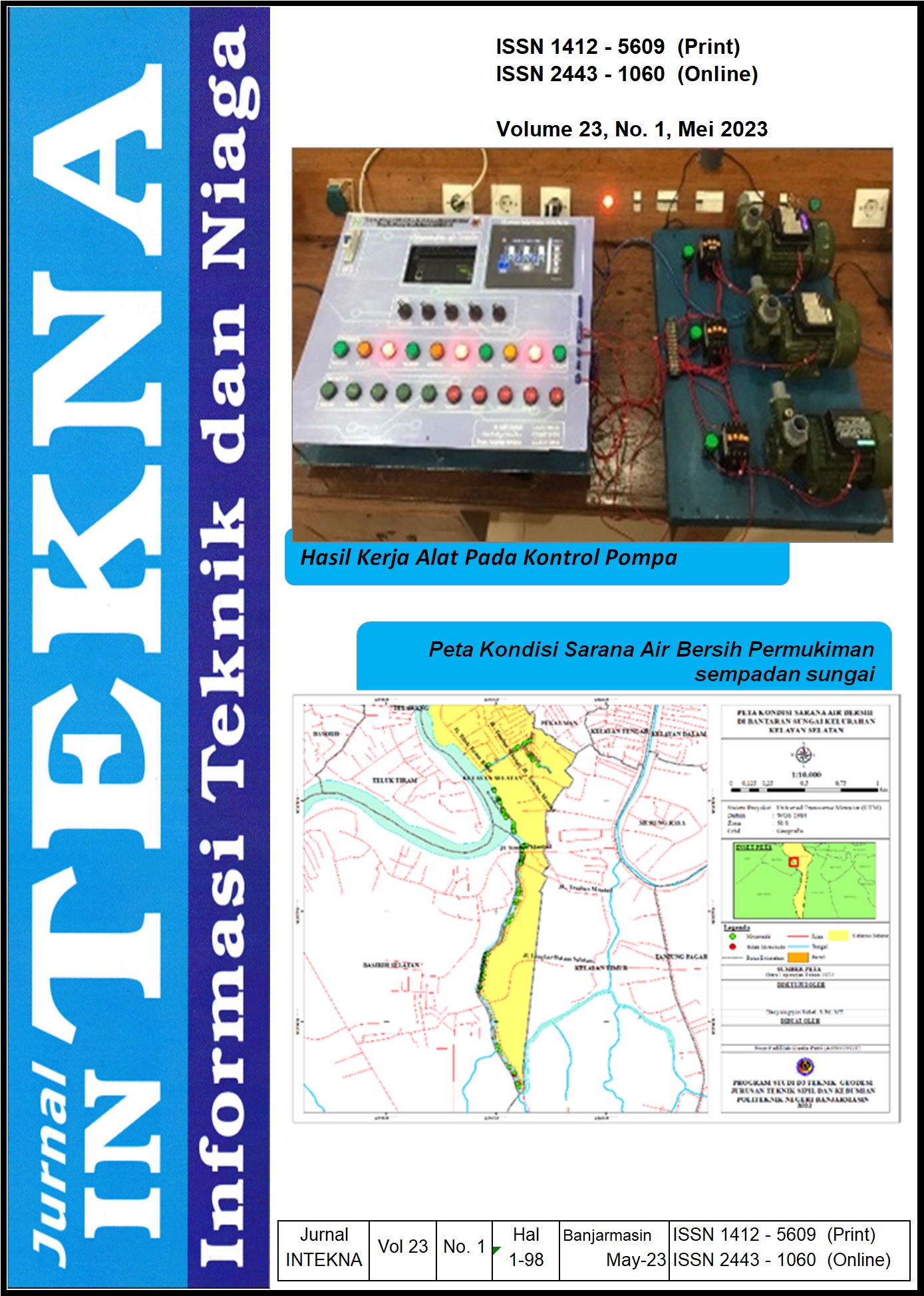 Downloads
How to Cite
Effendi, T., Maharani, S., & Permanasari, L. (2023). Pentingnya Kualitas Layanan Dalam Meningkatkan Kepuasan Dan Loyalitas Pelanggan Indihome Banjarmasin. Jurnal INTEKNA : Informasi Teknik Dan Niaga, 23(1), 15–23. Retrieved from https://ejurnal.poliban.ac.id/index.php/intekna/article/view/1626