Pelatihan Perancangan Aplikasi Interaktif Dibidang Teknik Mesin
Keywords:
Pelatihan Pemrograman Teknik, Pengabdian Masyarakat
Abstract
Basic understanding in using computers has become a necessity that must be understood by most people. Various aspects of human life in modern times require the help of computers to make it easier, more effective and efficient. So many human activities that can be done with the help of computers, for example: word processing, table processing, browsing on the internet, sending and receiving emails,etc. Because of the many needs in using computers, many programs and applications are made for various purposes.
Engineering software or engineering program is a program created to help humans complete various kinds of calculations in the field of engineering. On this occasion, we carried out community service to SMKN2 students in Banjarmasin to provide understanding and skills about making applications or programs related to engineering, especially in the field of mechanical engineering. This service is carried out by providing training in making interactive applications in the field of mechanical engineering. The training method used is a combination of theory and practice, starting with a basic understanding of programming, introduction of identifiers, introduction of variables and introduction of IDE (Integrated Development Environment) so that it is expected to provide students with an understanding of the material presented. Students will also be given various kinds of calculation cases in the engineering field that the program application will be made to be able to complete these calculations easily and quickly. The target of community service is technical programming training services and publications in national service journals.
Downloads
Download data is not yet available.
References
Panduan Pelaksanaan Penelitian dan Pengabdian Pada Masyarakat di Perguruan Tinggi Edisi XII Tahun 2018. Direktorat Riset dan Pengabdian Pada Masyarakat, Direktorat Jenderal Penguatan Riset dan Pengembangan, Kementerian Riset, Teknologi dan Pendidikan Tinggi.

Rencana Strategis Pengabdian Kepada Masyarakat Politeknik Negeri Banjarmasin Tahun 2017-2021.

Suyitno,"Pelatihan Komputer Bagi Perangkat Desa dan Karang Taruna di Purworejo", Laporan Pengabdian Masyarakat, 2018.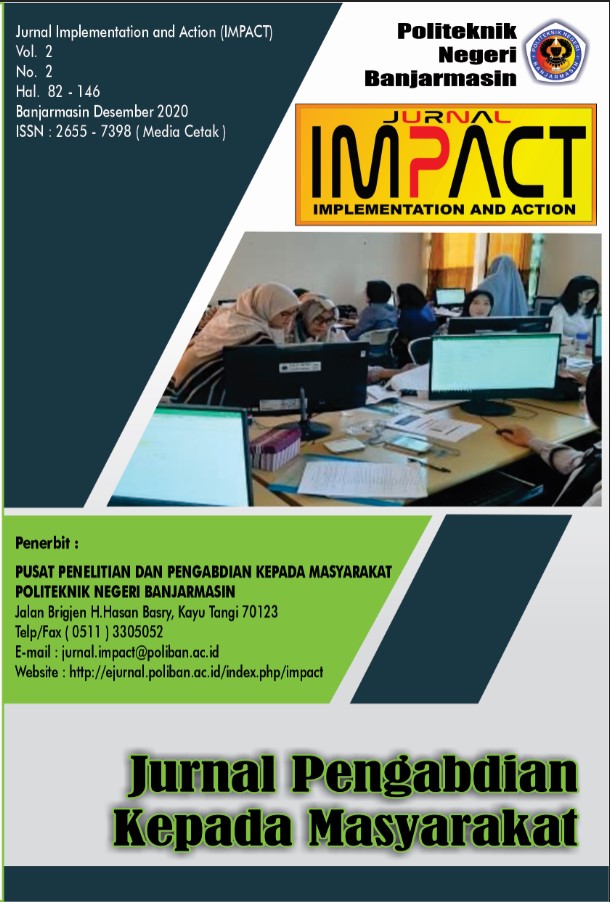 Downloads