Pengaruh Brand Image dan Brand Trust terhadap Loyalitas Nasabah Bank Kalsel Banjarmasin
Keywords:
Brand Image, Brand Trust, loyalty
Abstract
This study was conducted to analyze the effect of Brand Image and Brand Trust on Customer Loyalty at PT Bank Pembangunan Daerah Kalsel in Banjarmasin City, which aims to determine brand image and brand trust partially and simultaneously customer loyalty. This research uses a purposive sampling technique with 100 PT Bank Pembangunan Daerah Kalsel customer respondents in Banjarmasin City. The analysis method used in this research is Multiple Linear Regression Analysis. The findings of this study indicate that Brand Image partially has a positive but insignificant effect, and Brand Trust partially has a positive and significant impact. While simultaneously, Brand Image and Brand Trust significantly affect customer loyalty. The value (Adjusted R Square) shows that Brand Image and Brand Trust can explain customer loyalty by 80%. In comparison, the remaining 20% is influenced by other variables besides Brand Image and Brand Image in this study. The results of this study are also customarily distributed; there are no symptoms of multicollinearity, no heteroscedasticity, no autocorrelation problems or symptoms, all x variables against y results are linear, and all variables are valid and reliable.
Downloads
Download data is not yet available.
References
Abdul Majid. 2011. Perencanaan Pembelajaran Mengembangkan Kompetensi Guru. Bandung:PT Remaja Rosda Karya.
Ahmad, Subagyo. 2010. Marketing in Business.edisi pertama, cetakan pertama. Jakarta: Mitra Wacana Media.
Ainur Rofiq. 2007, Pengaruh Dimensi Kepercayaan (trust) Terhadap Partisipasi Pelanggan E-commerce (Studi Pada Pelanggan E-Commerce di Indonesia) Tesis FPS Universitas Brawijaya Malang: tidak diterbitkan.
Akdon, Riduwan. 2011. Rumus dan Data dalam Aplikasi Statistika. Bandung : Alfabeta
Alma, Buchari. 2003. Manajemen Pemasaran dan Pemasaran Jasa. Edisi 2. Bandung: Alfabeta.
Assauri, Sofjan. 2013. Manajemen Pemasaran. Jakarta : Rajawali Pers.
Delgado-Ballester, Elena. 2001. Development and Validation of a BrandTrust Scale, Journal of Market Focused Management.
Fandy Tjiptono. 2005. Pemasaran Jasa, Edisi pertama, Yogyakarta; Penerbit Bayumedia Publishing.
Ghozali, Imam. 2011. Aplikasi Analisis Multivariat Dengan Program SPSS. Semarang : Badan Penerbit Universitas Diponegoro.
Hill, Nigel, 1996. Handbook Of Costomer Satisfaction Measurement, Cambridge. Great Britain at the University Press.
Kartajaya, Hermawan. 2004. Hermawan Kartajaya on Brand. Bandung: Mizan Pustaka.
Kotler, Philip, dan Kevin Lane Keller. 2008. Manajemen Pemasaran Jilid 2, edisi. Ketiga edisi Ketiga Belas, Terjemahan Bob Sabran, MM. Jakarta: Penerbit.
Lau, G. T. and Lee, S. H. 1999. "Consumers' Trust in a Brand and the Link to Brand Loyalty," Journal of Market Focused Management, 4:341-370.
Nazir, Moh. 2013. Metode Penelitian. Bogor: Ghalia Indonesia.
Sangadji, E.M., dan Sopiah. 2013. Prilaku Konsumen: Pendekatan Praktis Disertai: Himpunan JurnalPenelitian. Yogyakarta: Penerbit Andi.
Sugiyono. 2017. Metode Penelitian Kuantitatif, Kualitatif, dan R&D. Bandung: Alfabeta, CV.
Sugiyono. 2013. Metode Penelitian Pendidikan Pendekatan Kuantitatif, Kualitatif, dan R&D. Bandung: Alfabeta.
Sugiyono. 2010. Metode Penelitian Administratif. Bandung: Alfabeta.
Sutisna dan Pawitra. 2001. Perilaku Konsumen dan Komunikasi Pemasaran.Jakarta. PT. Remaja Rosdakarya.
Utomo, Priyanto Doyo, 2006, Analisis Terhadap Faktor-Faktor Yang Mempengaruhi Loyalitas Konsumen Pada Operator Telepon Seluler. Thesis: Universitas Gadjah Mada.
Zeithaml, Valarie A, Mary Jo Bitner dan Dwayne D. Gremler, 2009. "Services Marketing –Integrating Customer Focus Across the Firm 5th Edition". New York : McGraw-Hill.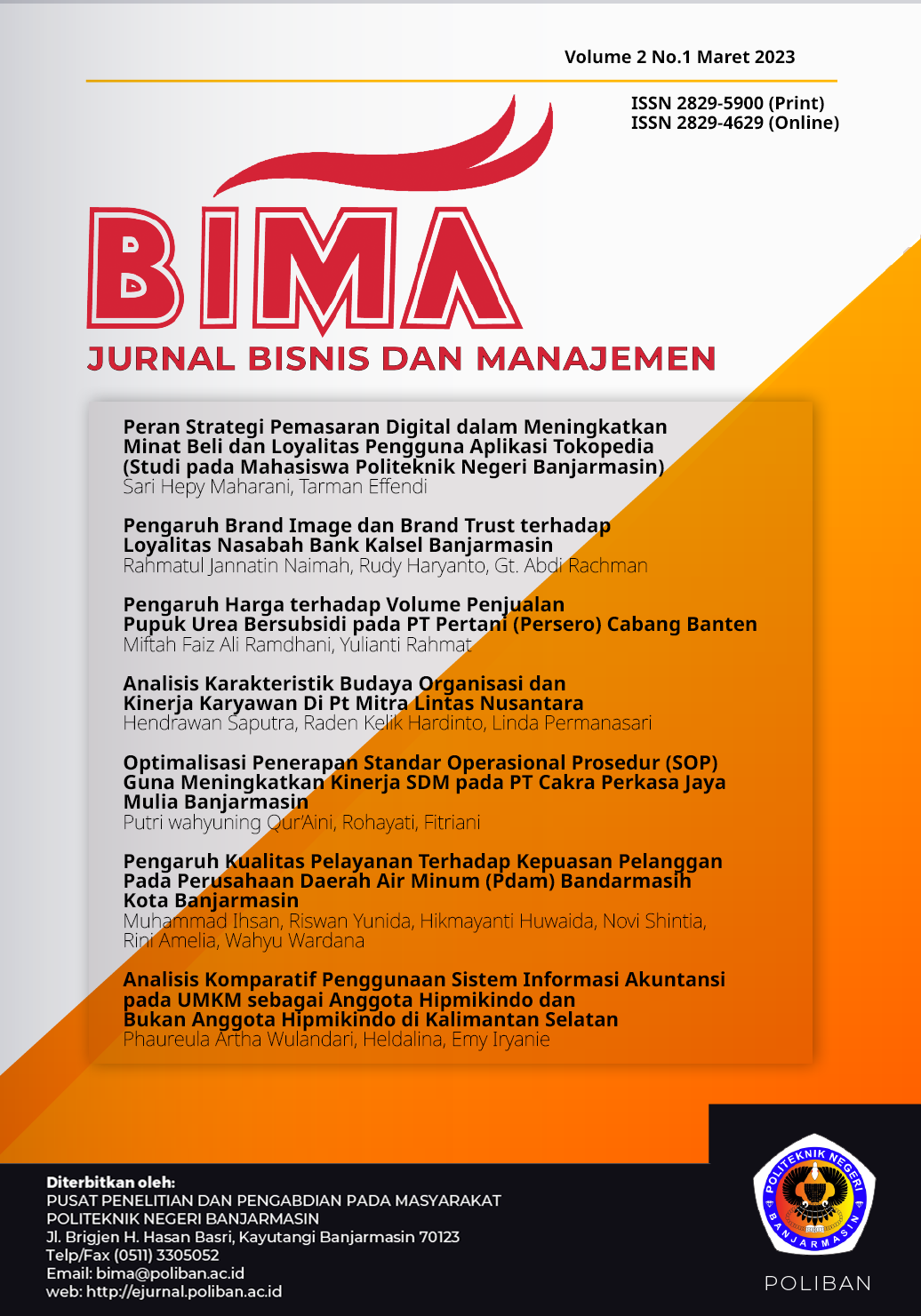 Downloads
How to Cite
Abdi Rachman, G., Jannatin Naimah, R., & Haryanto, R. (2023). Pengaruh Brand Image dan Brand Trust terhadap Loyalitas Nasabah Bank Kalsel Banjarmasin. Jurnal Bisnis Dan Manajemen, 2(1), 10–18. https://doi.org/10.1234/bima.v2i1.1956