Peran Strategi Pemasaran Digital Dalam Meningkatkan Minat Beli Dan Loyalitas Pengguna Aplikasi Tokopedia (Studi Pada Mahasiswa Politeknik Negeri Banjarmasin)
Keywords:
digital marketing, purchase intention, loyalty
Abstract
This study aims to determine the effect of Tokopedia's digital marketing strategy on buying interest and consumer loyalty. Quantitative research methods were used in this study. Questionnaires with a Likert scale were distributed to 40 students of Banjarmasin State Polytechnic using the Tokopedia application. The sampling method used was convenience sampling, namely by distributing questionnaires to students who were on the Banjarmasin State Polytechnic campus. The data obtained is then processed using path analysis. The findings of this study indicate that the variabels of product diversity and promotion through sosial media affect online buying interest. In addition, it was also found that purchase intention significantly influences loyalty despite its small value.
Downloads
Download data is not yet available.
References
Al-Dmour, H. H., Ali, W. K., & Al-Dmour, R. H. (2019). The relationship between customer engagement, satisfaction, and loyalty. International Journal of Customer Relationship Marketing and Management (IJCRMM), 10(2), 35-60.
Arobo, Abdulrazak T, (2022). The Effect of Digital Marketing on SMEs. A case study of Swedish and Nigerian companies. Degree Project. Luleå University of Technology. Department of Sosial Sciences, Technology and Arts. Sweden.
Bokša, M., Šaroch, S, & Bokšová, J. (2020). Digitalization of SMEs. International Advances in Economic Research volume 26, pages 175–177.https://doi.org/10.1007/s11294-020-09777-1
Constable, Philip. (2001). The Marginalization of a Dalit Martial Race in Late Nineteenth- and Early Twentieth-Century Western India. The Journal of Asian Studies, Volume 60, Issue 2, May 2001, pp. 439 – 478. DOI: https://doi.org/10.2307/2659700
Desy Setyowati, (2022). Riset: E-Commerce Paling Untung Berkat Corona Bukan Shopee & Tokopedia. https://katadata.co.id/desysetyowati/digital/634e879c5c519/riset-e-commerce paling-untung-berkat-corona-bukan-shopee-tokopedia
Eqqi Syahputra, (2021). Tokopedia Beberkan Dampak Pandemi ke Bisnisnya. https://www.cnbcindonesia.com/tech/20211207124500-37-297300/tokopedia-beberkan-dampak-pandemi-ke-bisnisnya
Foster, B., Johansyah, MD., (2019). The Effect of Product Quality and Price on Buying Interest with Risk as Intervening Variabels (Study on Lazada.com Site Users). International Journal of Innovation, Creativity and Change. www.ijicc.net, Volume 9, Issue 12, 2019.
Harrigan, E. & Patrick, I. (2012). Exploring and explaining SME marketing investigating e-CRM using a mixed methods approach: Journal of strategic marketing 20(2): 127-163.
Harisno and Herby, D. (2018). The Analysis of Faktors Affecting the Buying Interest of ECommerce Customers. CommIT (Communication & Information Technology) Journal,12(1), 2018, pp. 13–18.
Husnain, M., & Akhtar, M. W. (2015). Relationship marketing and customer loyalty: Evidence from banking sector in Pakistan. Global Journal of Management and Business Research: E-Marketing, 15(10), 1-14.
Isensee, C., Teuteberg, F., Griese, K., Topi, C., (2020). The relationship between organizational culture, sustainability, and digitalization in SMEs: A systematic review. Journal of Cleaner Production 275:122944. Journal of Cleaner Production 275:122944
Jeddi, N. and Zaiem, I. (2010). The Impact of Label Perception on the Consumer's Purchase Intention: An Application on Food Products. IBIMA Business Review, Vol. 2010 (2010), Article ID 476659, 14 pages: 1-14.
Kannan, P. K. (2017). Digital marketing: A framework, review and research agenda. International journal of research in marketing, 34(1), 22-45 Li, L., Su, F., Zhang, W., & Mao, J.Y. (2017). Digital transformation by SME entrepreneurs: A capability perspective. Information System Journal Vol. 28. https://doi.org/10.1111/isj.12153.
Lai, F., Griffin, M., & Babin, B. J. (2009). How quality, value, image, and satisfaction create loyalty at aChinese telecom. Journal of business research, 62(10), 980-986.
Massari, P., & Passiante, G. (2006). Customer satisfaction and loyalty in a digital environment: an empirical test. The Journal of Consumer Marketing, 23(7), 445.
Mohammad, Anber. (2022). The Impact of Digital Marketing Success on Customer Loyalty. Marketing and Management of Innovations,3, 2022. ISSN2218-4511 (print) ISSN 2227-6718(online)
Minh, N. V., & Huu, N. H. (2016). The Relationship between Service Quality, Customer Satisfaction andCustomer Loyalty: An Investigation in Vietnamese Retail Banking Sector. Journal of Competitiveness, 8(2),103-116.
Mramba, N.R. (2015). Does the Brand Name Matter to Purchase Decision? The Case of Mobile Phone. European Journal of Business and Management, Vol.7, No.4, 2015; pp. 335-343.
Nam, H., & Kannan, P. K. (2020). Digital environment in global markets: Cross-cultural implications for evolving customer journeys. Journal of International Marketing, 28(1), 28-47.
Ong, C. H., Md. Salleh, S., & Zien Yusoff, R. (2016). The role of emotional and rational trust in explaining attitudinal and behavioral loyalty: An insight into SME brands. Gadjah Mada International Journal of Business, 18(1), 1-19.
Richard, C. (2015). Email Marketing in a Digital World: The Basics and Beyond, Business Expert Press.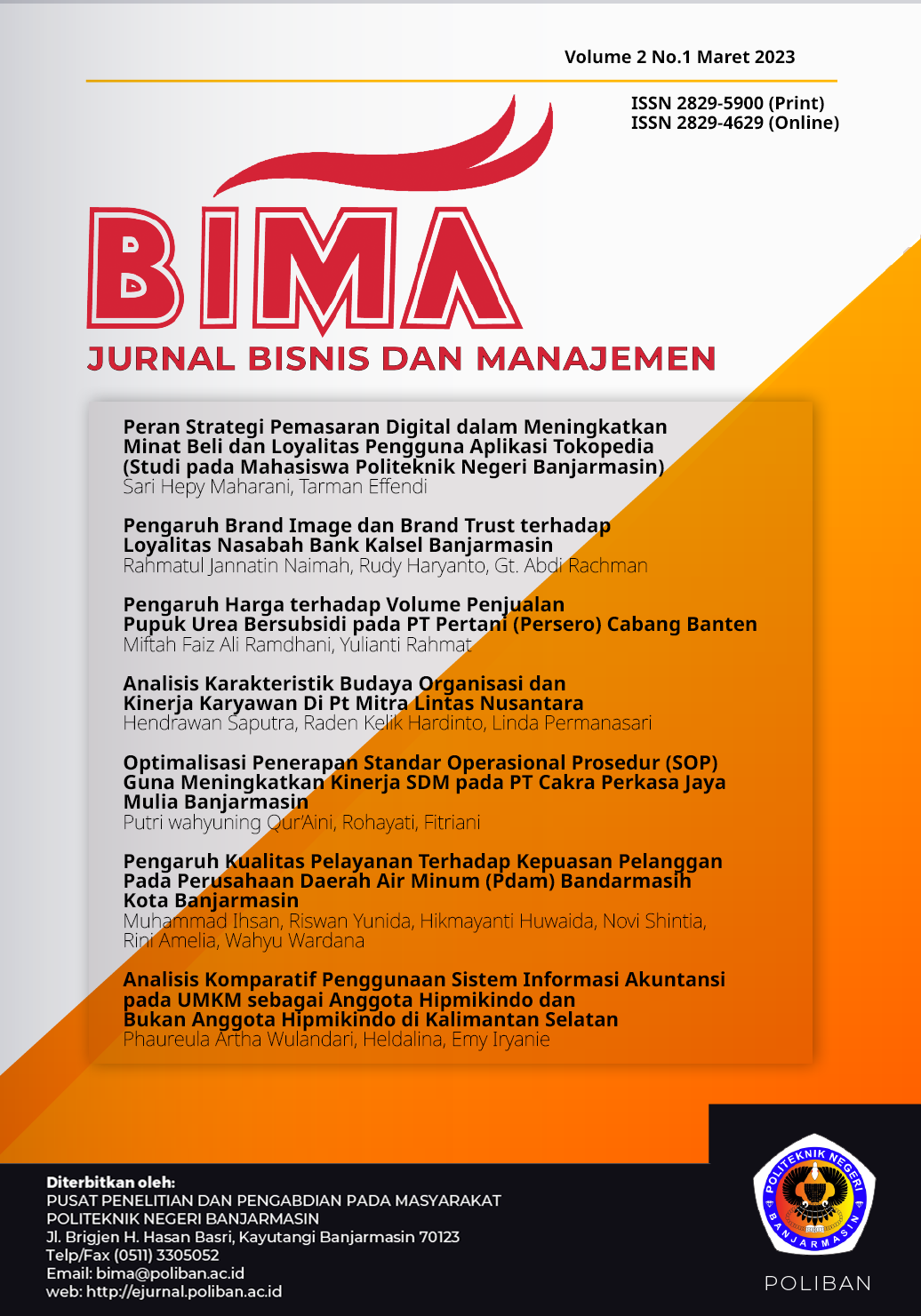 Downloads
How to Cite
Heppy Maharani, S., & Effendi, T. (2023). Peran Strategi Pemasaran Digital Dalam Meningkatkan Minat Beli Dan Loyalitas Pengguna Aplikasi Tokopedia (Studi Pada Mahasiswa Politeknik Negeri Banjarmasin). Jurnal Bisnis Dan Manajemen, 2(1), 1–9. https://doi.org/10.1234/bima.v2i1.1938