ANALISIS KOMPARATIF PENGGUNAAN SISTEM INFORMASI AKUNTANSI PADA UMKM SEBAGAI ANGGOTA HIPMIKINDO DAN BUKAN ANGGOTA HIPMIKINDO DI KALIMANTAN SELATAN
Keywords:
MSME, Accounting Information System, Business Succes
Abstract
At present the business development of Micro, Small and Medium Enterprises (MSMEs) is so rapid in various fields area. During the Covid pandemic and after the Covid pandemic, presence helped the economic recovery MSMEs. In order for MSMEs to survive and develop, information systems are needed, including systems accounting information. Management of MSME businesses is still a lot manually, making it difficult them to see how their business is progressing. Factors of business scale, business age, owner's background and accounting knowledge is a factor that influences MSMEs to use accounting information systems. The use of accounting information systems can be divided into three, namely manually, using excel and use the app. The use of the accounting information system also has an influence on MSME business success. The purpose of this study is to determine the factors that influence SMEs to use Accounting information systems, to find out the dominance of the use of recording and bookkeeping systems in SMEs and to determine the effect on the success of MSME businesses.This research method is descriptive qualitative research. Based on the survey results by sampling, will analyzed in a simple quantitative and qualitative way towards the research variable, namely the factor that influencing MSMEs including business scale, business age, owner background and accounting knowledge, in using accounting information systems. Will be concluded the most dominant factor and will concluded that the types of accounting information systems that are often used by MSMEs are manual, using excel, using free applications and paid applications. And conclusions will be drawn from
the use of the accounting information system on the success of MSME businesses. business success MSMEs include increasing turnover, increasing product selling prices, increasing branches/outlets, increasing the number of employees and increasing operating profit.
Downloads
Download data is not yet available.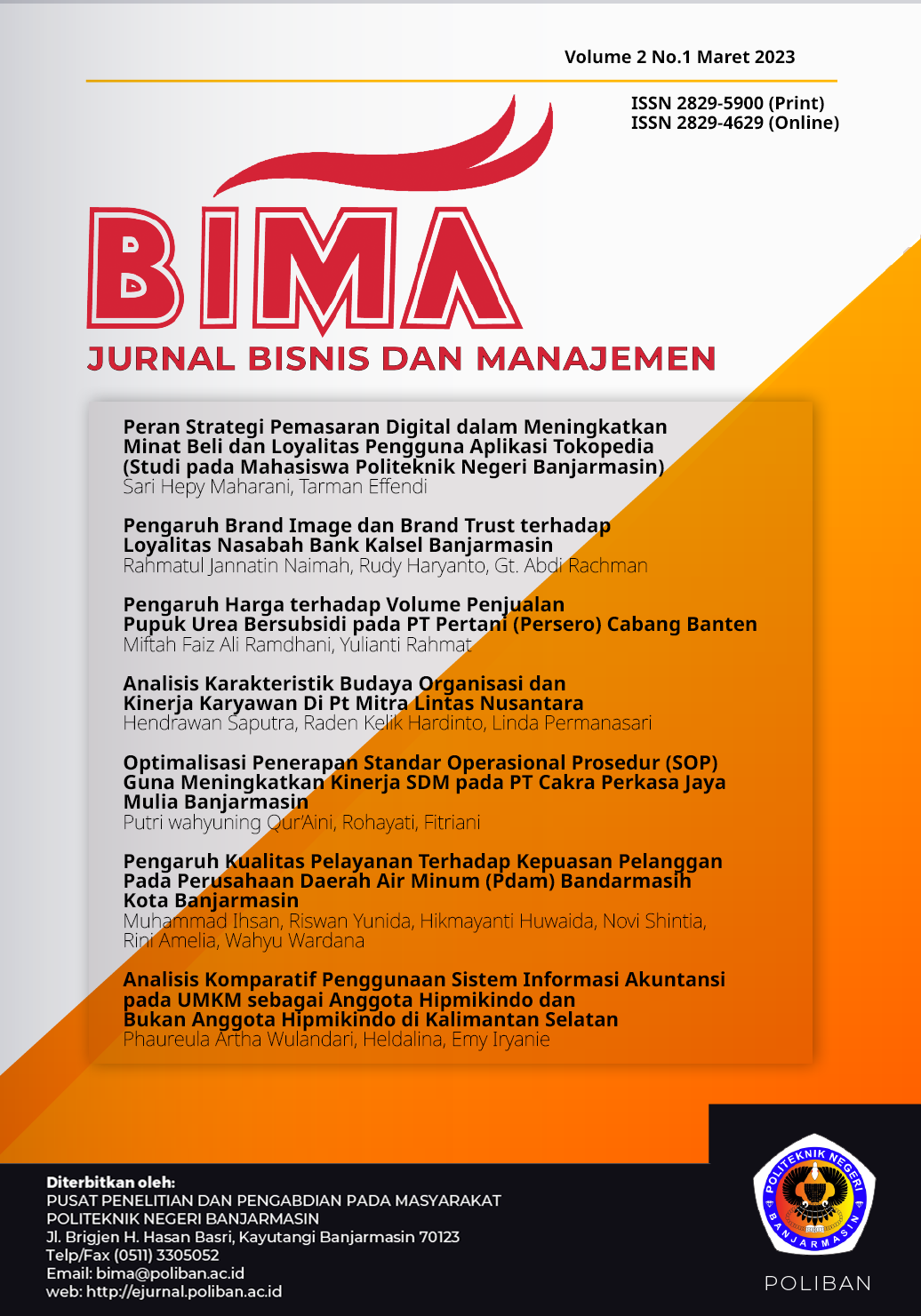 Downloads
How to Cite
Artha Wulandari, P., heldalina, heldalina, & Iryanie, E. (2023). ANALISIS KOMPARATIF PENGGUNAAN SISTEM INFORMASI AKUNTANSI PADA UMKM SEBAGAI ANGGOTA HIPMIKINDO DAN BUKAN ANGGOTA HIPMIKINDO DI KALIMANTAN SELATAN. Jurnal Bisnis Dan Manajemen, 2(1), 54–60. https://doi.org/10.1234/bima.v2i1.1877