Pengaruh strategi promosi media sosial untuk meningkatkan keputusan pembelian mahasiswa pada kedai kopi di banjarmasin
Keywords:
promotion, social media, consumer behavior, purchasing decisions
Abstract
The coffee shop business is growing rapidly in almost all major cities in Indonesia, and Banjarmasin is no exception. The number of coffee shops in Banjarmasin ultimately creates increasingly fierce competition between shops to get visitors or consumers. This study aims to determine whether promotion using social media has an effect on consumer purchasing decisions at Banjarmasin coffee shops. The research uses a quantitative approach. The data collection technique used is a questionnaire. The number of samples taken was as many as 100 people. And the coffee shop that is used as the object of research is the Kawai Coffee Shop in Banjarmasin. The results of a simple linear regression analysis state that there is a relationship between social media promotion and purchase decisions. The findings show that there are 2 groups of respondents in which in the Social Media Promotion 1 (PMS 1) group, social media promotion has a significant positive effect on consumer purchasing decisions, while the Social Media Promotion 2 (PMS 2) group has no significant effect on social media promotion decisions. consumer purchases
Downloads
Download data is not yet available.
References
Auker, Craig. 2011. Social Media and its Application in Business Marketing. Thesis on the University of Massachusetts Dartmouth. http://ssrn.com/abstract=2067223.
Anita Rahmi, 2019. "Strategi Promosi Melalui Media Sosial Intagram Guna Menarik Generasi Milenial Untuk Memilih Produk Tabungan pada PT Bank Pembangunan Daerah Kalimantan Selatatan cabang Paringin". Banjarmasin: Penerbit Politeknik Negeri Banjarmasin.
Collins, C. Juni 2011. Why Social Marketing Is Better Than Traditional Marketing (Video). http://www.youtube.com/watch?v=mD0gChoYIMY
Bagas Aji Pamungkas dan Siti Juhrroh, 2016. "Pengaruh Promosi di Media Sosial dan Word Of Mouth Terhadap Keputusan Pembelian Pada kedai Bontacos Jombang". Jombang : Penerbit STIE PGRI Dewantara Jombang.
Dewi Untari dan Dewi Endah Fajariana. 2018 " Strategi Pemasaran Media Sosial Instagram pada akun @Subur_Batik". Bandung : Penerbit Politeknik Kridatama Bandung.
Fasihatul Muslihah , 2018. "Pengaruh Social Media Marketing Instagram Terhadap Keputusan Pembelian Produk Fashion dalam Pandangan Islam". Lampung : Universitas Islam Negeri Raden Intan Lampung.
Tjiptono, Fandy. 2010. Strategi Pemasaran (Edisi 3).Yogyakarta: Andi.
Kismono, Gugup. 2001. Bisnis Pengantar. Yogyakarta : BPFE
Kotler dan Keller. 2009. Manajemen Pemasaran, Jilid I, Edisi 13. Jakarta. Erlangga
Kotler dan Amstrong. 2006.The Principle of Marketing Management. USA: Prentice Hall
Mileva Lubiana dan Fauzi Achmad. "Pengaruh Social Media Marketing Terhadap Keputusan Pembelian". Jurnal Administrasu Bisnis Vol.58 No.1 Mei 2018
Schiffman, Leon G & Leslie Lazar Kanuk. 2008. Perilaku Konsumen. Jakarta. Indeks Puri Media Kembangan.
Thoring, A. (2011). Corporate Tweeting: Analysing The Use Of Twitter As A Marketing Tool By UK Trade Publishers. Publishing Research Quarterly, 27(2), 141-158. http://link.springer.com/article/10.1007%2Fs12109-011-9214-7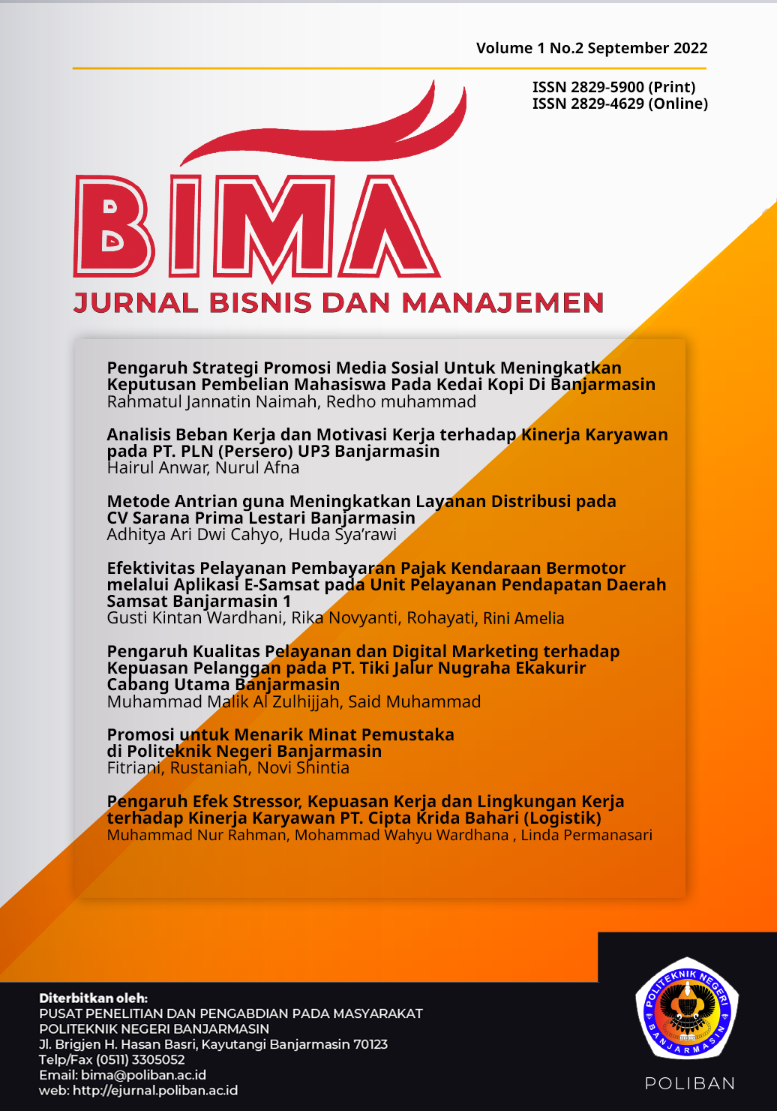 Downloads
How to Cite
Jannatin Naimah, R., & Muhammad, R. (2022). Pengaruh strategi promosi media sosial untuk meningkatkan keputusan pembelian mahasiswa pada kedai kopi di banjarmasin. Jurnal Bisnis Dan Manajemen, 1(2), 63–71. Retrieved from https://ejurnal.poliban.ac.id/index.php/JBM/article/view/1474