A Program for Measuring the Utilization of Productive Zakat Funds through the Zakat Utilization Index (IPZ) at the Banjarmasin City BAZNAS
The Zakat Utilization Index (IPZ)
Keywords:
The Zakat Utilization Index (IPZ), Productive Zakat Utilization
Abstract
This study aims to measure the success of the productive zakat utilization program at BAZNAS Banjarmasin using the Zakat Utilization Index (IPZ). This type of research is a descriptive method with a quantitative approach. The sampling technique used is purposive sampling. The sample in this study was a group of 22 people who came from the ZCD BAZNAS program group in Banjarmasin City. This research was conducted using a survey method through questionnaires and interviews. The analytical tool used in this study is IPZ with a calculation called the Multi-Stage Weighted Index using qualitative and quantitative analysis methods. The final result is processed using the calculation formula that has been provided with the help of the Microsoft Excel application. The results showed that the success rate of the Banjarmasin BAZNAS ZCD Program was 0.50. This shows that the utilization of productive zakat is in the poor category. Only one indicator is categorized as good enough, namely the social indicator with a value of 0.75. While the other 4 indicators are in the poor category, namely cultural indicators with a value of 0.38, economic indicators with a value of 0.36, da'wah indicators with a value of 0.50, and environmental indicators with a value of 0.44. The ZCD program at BAZNAS Banjarmasin is in the strengthening phase
Downloads
Download data is not yet available.
References
Al-Furqon, Muhammad Irsan. 2018. Efektivitas Pengelolaan Dana Zakat di LAZISMU Kab. Batang Dalam Meningkatkan Sumber Pendapatan Masyarakat. Skripsi pada IAIN, Pekalongan.
BAZNAS, P. (2019). Indeks Pendayagunaan Zakat. Jakarta Pusat: Pusat Kajian Strategis - Badan Amil Zakat Nasional (Puskas BAZNAS).
BAZNAS Banjarmasin Kota. https://baznas.banjarmasinkota.go.id/ (diakses pada tanggal 29 Juli 2022)
BPS. 2021. Jumlah Penduduk Miskin (Jiwa). https://banjarmasinkota.bps.go.id/indicator/23/102/1/jumlah-penduduk- miskin.html (diakses pada tanggal 5 Februari 2022)
Emir, Tim. 2016. Panduan Zakat Terlengkap. Jakarta: Erlangga.
Fakhruddin. (2008). Fiqh & Manajemen Zakat Di Indonesia, Cet. 1. Malang: UIN-Malang Press.
Faradella, Nur Aolya. 2020. Pendayagunaan Zakat Produktif Dalam Meningkatkan Usaha Mikro Mustahik di BAZNAS Kab. Banyumas. Skripsi pada IAIN, Purwokerto.
Fitria, Sela Nur. 2017. Analisis Pendayagunaan Dana Zakat Produktif Dalam Peningkatan Pendapatan Mustahik (Studi pada Dompet Peduli Ummat Daarut Tauhid Lampung). Skripsi pada UIN Raden Intan, Lampung.
Hafidhuddin, Didin. 2005. Anda Bertanya tentang Zakat, Infak, & Sedekah Kami Menjawab . Jakarta Pusat: Badan Amil Zakat Nasional.
Hendra, 2021. Analisis Efektivitas Pendayagunaan Zakat Produktif dalam Upaya Meningkatkan Pendapatan Mustahiq (Studi Kasus Penerima Zakat Produktif dari BAZNAS di Desa Benai Kecamatan Benai). Juhanperak. 2 (2), 610-622.
Kurnia, H., & Hidayat, A. (2008). Panduan Pintar Zakat, Cet. 1. Jakarta: Qultum Media.
Maghfiroh, Nurul. 2020. Evaluasi Program Pemberdayaan BAZNAS "ZMART" Berdasarkan Indeks Pendayagunaan Zakat (IPZ). Skripsi pada Universitas Pendidikan Indonesia, Bandung.
Maudina, Ulfa. 2018. Pengaruh Pembiayaan Zakat Produktif terhadap Tingkat Pendapatan Mustahik (Studi Pada Baitul Mal Aceh). Skripsi pada UIN Ar- Raniry, Banda Aceh.
Maula, Fina Minhatul. 2020. Efektivitas Pendistribusian Zakat Produktif Dalam Meningkatkan Kesejahteraan Mustahik (Studi pada BAZNAS Kab. Boyolali). Skripsi pada IAIN, Surakarta.
Mufraini, M. Arief. 2006. Akuntansi dan Manajemen Zakat. Cet ke-1. Jakarta: Prenada Media Group.
Muhadjir, Noeng. 1996. Metodologi Penelitian Kualitatif. Yogyakarta: Rakesarain.
Muharram, Rully. 2017. Evaluasi Pendayagunaan Dana Zakat Pada Program Bantuan Modal Usaha Bazis DKI Jakarta Pusat. Skripsi pada UIN Syarif Hidayatullah, Jakarta.
PPID BAZNAS. (n.d.). Pengelolaan Zakat – PPID BAZNAS. Retrieved 24 December 2019, from https://pid.baznas.go.id/pengelolaan-zakat/.
Putra, Dwi Jaya& Hurairah. 2020. Efektivitas Pemberian Zakat Produktif Sebagai Modal Usaha Masyarakat. Prosiding Seminar Nasional Multi Disiplin Ilmu Universitas Asahan , 394-410.
Rahmadina, Niza. 2022. Analisis Keberhasilan Program Pendayagunaan Zakat Produktif Menggunakan Metode Indeks Pendayagunaan Zakat (IPZ). Skripsi pada UIN Syarif Hidayatullah, Jakarta.
Rizqa. 2020. Pengaruh Pendistribusian Zakat Produktif Terhadap Tingkat Pengurangan Kemiskinan Mustahik di Kota Banjarmasin. Skripsi pada POLIBAN, Banjarmasin.
Saputra, Akhmad. 2019. Pemanfaatan Produk Qord Al-Hasan BAZNAS Sumatera Utara untuk Pemberdayaan Usaha Mikro di Kota Medan. Skripsi pada UIN Sumatera Utara, Medan.
Sugiyono. 2010. Statistik Untuk Pendidikan. Bandung: Alfabeta.
Sugiyono. 2016. Metode Penelitian Kuantitatif, Kualitatif, dan R&D. Bandung: Alfabeta.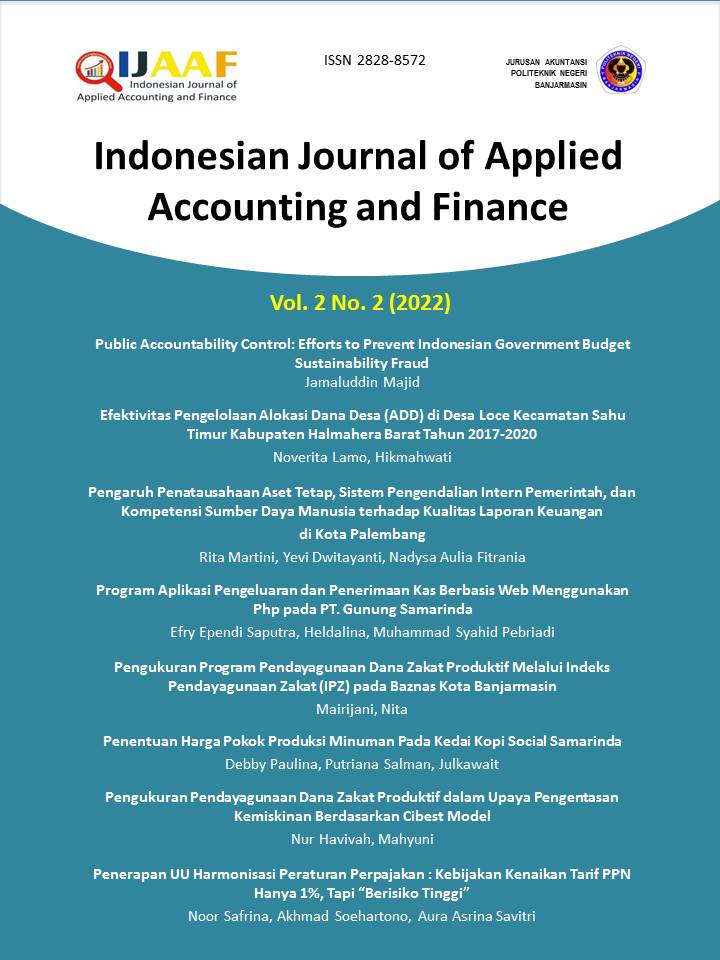 How to Cite
Mairijani, M., & Nita, N. (2023). A Program for Measuring the Utilization of Productive Zakat Funds through the Zakat Utilization Index (IPZ) at the Banjarmasin City BAZNAS: The Zakat Utilization Index (IPZ). Indonesian Journal of Applied Accounting and Finance, 2(2). Retrieved from https://ejurnal.poliban.ac.id/index.php/IJAAF/article/view/1580
License
Copyright (c) 2023 Mairijani Mairijani, Nita Nita
This work is licensed under a Creative Commons Attribution 4.0 International License.