Program Aplikasi Pengeluaran dan Penerimaan Kas Berbasis Web Menggunakan Php pada PT. Gunung Samarinda
Abstract
The purpose of this study was to determine the information system of cash receipts and disbursements and to produce a web-based application program for cash receipts and cash disbursements using PHP at PT. Gunung Samarinda.This research method is using case studies with interviews, documentation and direct observation. The types of data used are qualitative and quantitative data types. In this study it was found that all records of cash receipts and disbursements were still using Microsoft Excel. Therefore, the authors suggest using a web-based cash receipt and disbursement application program design in order to help PT. Gunung Samarinda so that the current system is more effective and efficient.
Downloads
Download data is not yet available.
References
Ardiyansyah, A., Risdiansyah, D., & Faturahman, R. (2021). Penerapan Metode Extreme Programming Dalam Mengembangkan Aplikasi Pemasukan Dan Pengeluaran Kas Berbasis Web. Jurnal Teknologi Informasi.
Dewi, S. C., Saryoko, A., & Sukmana, S. H. (2018). PerancanganHakim, L., Kristanto, S. P., Shodiq, M. N., & Amaliyah, E. (2021). Aplikasi Penerimaan dan Pengeluaran Kas Berbasis Web dan WhatsApp Gateway. Jurnal Tekno Kompak, 15(1), 13.
Kusumadiarti, R. S., & Andriany, A. (2020). Perancangan Sistem Informasi Akuntansi Penerimaan Kas Pada CV Bintang Alpro Jakarta. JURNAL PETIK, 6(1), 41–50.
Mustafidah, H., & Suwarsito. (2020). Dasar-Dasar Metodologi Penelitian (T. Haryanto (ed.); 1st ed.). UM Purwokerto Press.
Sujarweni, V. W. (2020). Metodologi penelitian bisnis & ekonomi (Cet. 1). Pustaka Baru Press.
Usnaini, M., Yasin, V., & Sianipar, A. Z. (2021). Perancangan sistem informasi inventarisasi aset berbasis web menggunakan metode waterfall. Jurnal Manajamen Informatika Jayakarta, 1(1), 36.
Yanestia, T., & Rahmadhani, A. Y. (2021). Rancang Bangun Aplikasi Penerimaan Dan Pengeluaran Kas Berbasis Web Pada PT Sena Jaya. 1(1), 1–10.
Sistem Informasi Penerimaan Kas Pada PT. Andita Mas Bekasi.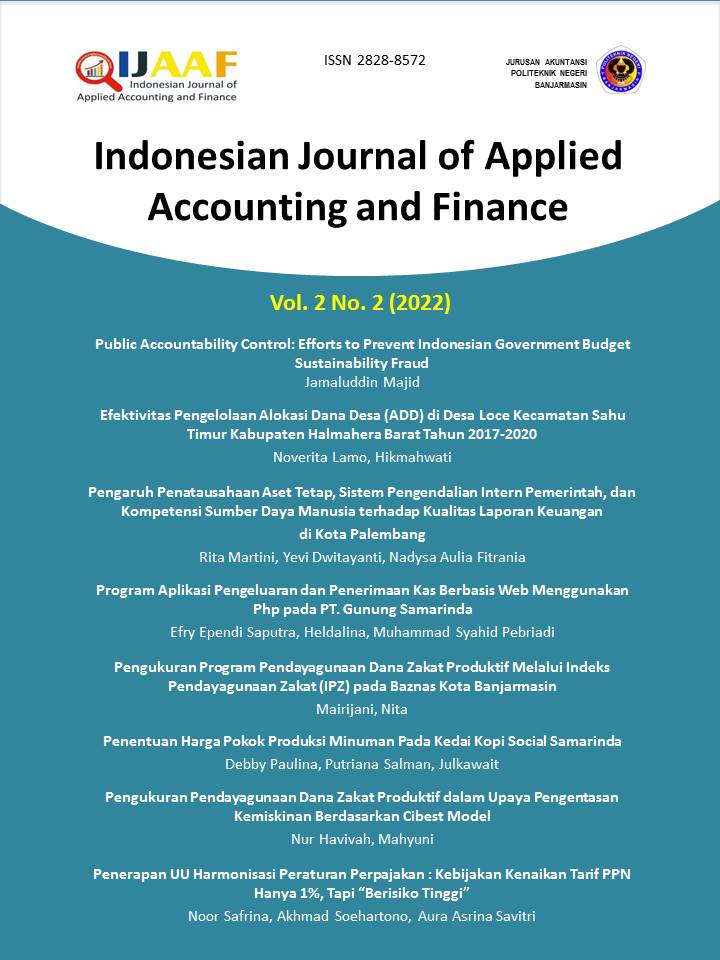 How to Cite
Efry Ependi Saputra, Heldalina, & Muhammad Syahid Pebriadi. (2022). Program Aplikasi Pengeluaran dan Penerimaan Kas Berbasis Web Menggunakan Php pada PT. Gunung Samarinda. Indonesian Journal of Applied Accounting and Finance, 2(2). https://doi.org/10.31961/ijaaf.v2i2.1517
License
Copyright (c) 2023 Efry Ependi Saputra, Heldalina, Muhammad Syahid Pebriadi
This work is licensed under a Creative Commons Attribution 4.0 International License.