PENGARUH KUALITAS PELAYANAN, KUALITAS PRODUK DAN KEPUTUSAN PEMBELIAN TERHADAP LOYALITAS PELANGGAN GO FOOD MELALUI VARIABEL KEPUASAAN
Iskandar Ahmaddien

Universitas Sangga Buana, Fakultas Ekonomi, Manajemen

Endah Widati

Universitas Indraprasta PGRI, FIPPS, Pendidikan Ekonomi
Abstract
Penelitian bertujuan menjelaskan pengaruh kualitas pelayanan, kualitas produk dan kepuasan pelanggan terhadap loyalitas pelanggan melalui keputusan pembelian di go-food. Metode penelitian yang digunakan adalah Analisa Jalur dengan menggunakan program SPSS Versi 24 dan AMOS Versi 23. Pengumpulan data menggunakan kuesioner yang di sebar kepada responden sebanyak 125 orang dengan menggunakan google form. Temuan penelitian ini menunjukkan bahwa Kualitas produk dan keputusan pembelian berpengaruh signifikan tehadap loyalitas pelanggan melalui variabel kepuasaan sedangkan kualitas pelayanan tidak berpengaruh signifikan tehadap loyalitas pelanggan melalui keputusan pembelian. Implikasi penelitian Walaupun kualitas layanan tidak berpengaruh akan tetapi disaranakan tetap di pertahankan karena kualitas layanan meruapakan penunjang loyalitas pelanggan.
References
Armesh, H., Salarzehi, H., Yaghoobi, N. M., Heydari, A., & Nikbin, D. (2010). Impact of Online/Internet Marketing on Computer Industry in Malaysia in Enhancing Consumer Experience. International Journal of Marketing Studies, 2(2):75-86
Bilgili, B., Candan, B., and Bilgili, S. 2014. A research study on the relationship among relational benefit, perceived quality, image and customer loyalty in different hospitality Businesses. International Journal of Management Cases. Vol. 16 No. 3, pp. 20–39
Dick, A. S. and K. Basu. 1994 "Customer Loyalty: Toward an Integrated Conceptual Framework," Journal of the Academy of Marketing Science, Vol 22, No. 2 (Spring), 99-113
Dolarslan, E. 2014. Assessing the Effects of Satisfaction and Value on Customer Loyalty Behaviors in Service Environments. Management Research Review, 37 (8): 706-727
Ghozali, Imam. 2011. " Aplikasi Analisis Multivariate Dengan Program SPSS". Semarang: Badan Penerbit Universitas Diponegoro
Griffin, Jill. 2010. Customer Loyalty How To Earn it, How Keep It I.Kentucky: McGraw Hill
Haghighi, M., Dosrosti, & Rahnama, H. 2012. Evaluation of Factors Affecting Customer Loyalty in the Restaurant Industry. Africa Journal of Business Management, 6 (14): 5039-5046
Ika & hadiwidjojo andarwati, 2017.Pengaruh Kualitas Produk Dan Layanan Terhadap Loyalitas Pelanggan Coffee Shop. Jurnal Ekonomi Bisnis Vo 22 No 2
Malhotra, K.N. (2010). Marketing Research. 6th Edition. USA: Prentice Hall, Inc
Mowen, John. Michael Minor. 2002. Perilaku Konsumen. Jakarta. Erlangga
Parsa, G., & Dutta. 2012. Consumer Behaviour in Restaurants: Assessing the Importance of Restaurant Attributes in Consumer Patronage and Willingness to Pay. Journal of Services Research, 12 (2): 1-28
Parasuraman, A., V.A., Zeithml dan L.L., Berry.1998. SERVQUAL :A Multiple Item Scale for Meansuring Consumer Perseption of Service Quality, hal 64, Jurnal of Retailing
Kotler, Philip & Keller, L Kevin. 2009. Manajemen Pemasaran Jilid 1 Edisi 13. Jakarta: Erlangga
Lee, J., Lee, J., and Feick, L. 2001. The impact of switching costs on the customer satisfaction-loyalty link: Mobile phone service in France. Journal of Services Marketing, Vol. 15 No. 1, pp.35–48
Liu, C., Guo, Y. M., and Lee, C. 2011. The effects of relationship quality and switching barriers on customer loyalty. International Journal of Information Management. Vol. 31 No. 1, pp. 71–79
Kotler, Philip. & Gary Armstrong. 2014. Principle Of Marketing, 15th edit
Taylor Steven dan Baker. 1994. An Assessment of the Relationship ion. New Jersey: Pearson Prentice Hall Between Service Quality and Customer Satisfaction in The Information of Customer Purchase Intention. Journal of Retailing Volome 70 Page 163 – 178. New York University
Sugiyono. 2016. Metode Penelitian Kuantitatif Kualitataif dan Kombinasi (Mixed Methods).Bandung: Alfabeta.
Tjiptono, Fandy, 2009. Manajemen Jasa. Yogyakarta: Penerbit Andi.
Rashid, R., & Yusuf, S. A. 2015. The Impact of Quality and Customer Satisfaction on Customer's Loyalty: Evidence From Fast Food Restaurant of Malaysia. International Journal of Information Business and Management, 7 (4)
Rust, R.T. and Zahorik, A.1993, "Customer satisfaction, customer retention, and market share", Journal of Retailing, Vol. 69 No. 2, pp. 193-215
Weiss, R. 1997. The Relationship Between Restaurants Attribute Satisfaction and Return Intent in Theme Restaurants. Proquest 1997: 23-41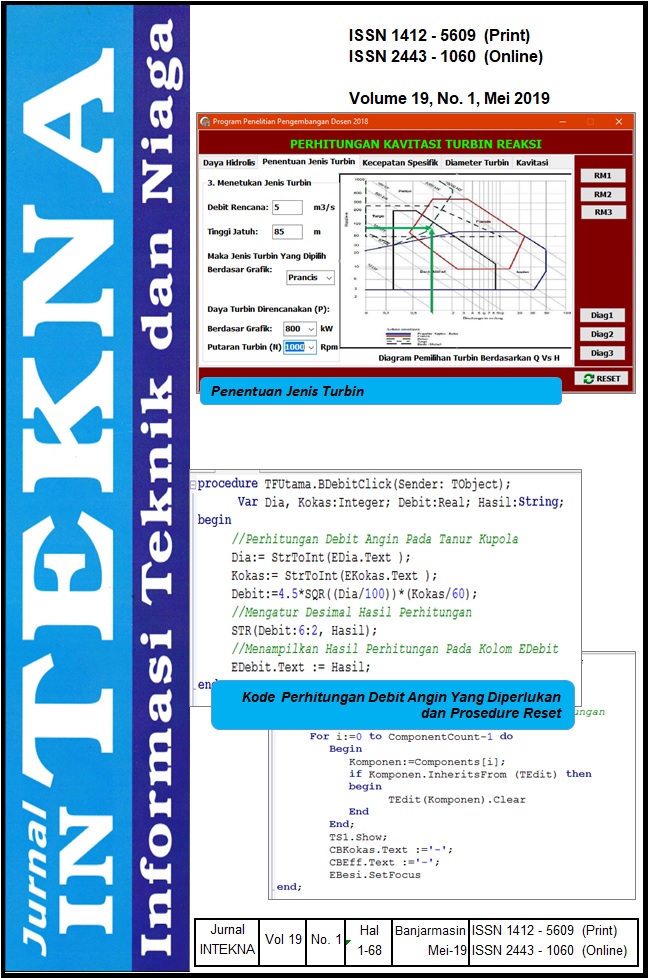 How to Cite
AHMADDIEN, Iskandar; WIDATI, Endah. PENGARUH KUALITAS PELAYANAN, KUALITAS PRODUK DAN KEPUTUSAN PEMBELIAN TERHADAP LOYALITAS PELANGGAN GO FOOD MELALUI VARIABEL KEPUASAAN.
Jurnal INTEKNA : Informasi Teknik dan Niaga
, [S.l.], v. 19, n. 1, p. 40-45, may 2019. ISSN 2443-1060. Available at: <
http://ejurnal.poliban.ac.id/index.php/intekna/article/view/721
>. Date accessed: 14 aug. 2020.