ANALISIS HUBUNGAN PEMANFAATAN TEKNOLOGI INFORMASI SEBAGAI PENUNJANG PRESTASI MAHASISWA FASILKOM UNSRI MELALUI METODE UJI CHI-SQUARE
Hedi Yunus

Sistem Informasi,Fakultas Ilmu Komputer, Universitas Sriwijaya

Gusti Barata

Sistem Informasi,Fakultas Ilmu Komputer, Universitas Sriwijaya

Ali Ibrahim

Sistem Informasi,Fakultas Ilmu Komputer, Universitas Sriwijaya
Abstract
Kemjauan Teknologi Informasi saat ini berjalan sangat cepat, hampira setiap elemen masyarakat memiliki kebutuhan akan Teknologi Informasi tak terkecuali mahasiswa. Semakin seringnya mahasiswa menggunakan Teknologi Informasi banyak  yang menganggap dapat mengurangi fokus mereka terhadap perkuliahan karena banyaknya dampak negative. Penelitian ini digunakan untuk menguji hubungan antara penggunaan teknologi informasi terhadap peningkatan prestasi mahasiswa  menggunakan metode Uji chi-square karena metode ini dapat  menguji hipotesis tentang perbandingan antar frekuensi observasi dengan frekuensi ekspektasi yang di dasarkan oleh hipotesis tertentu pada setiap kasus atau data yang diambil untuk diamati. Dari uji Di dapat total responden 50 orang dari ruang lingkupnya yaitu Fakultas Ilmu Komputer Universitas Sriwijaya, dan setelah di lakukan uji spss dan uji signifikansi dapat di hasilkan bahwa t hitung = 0.867 < t tabel = 9.488 itu artinya Ho nya di terima dengan begitu dapat kesimpulan bahwa tidak terdapat keterkaitan antara pemanfaatan TI terhadap tingkat prestasi akademik mahasiswa.
References
D. Koletsi and N. Pandis, "The chi-square test for trend," Am. J. Orthod. Dentofac. Orthop., vol. 150, no. 6, pp. 1066–1067, 2016.
J. Jackson, S. Gettings, and A. Metcalfe, "'The power of Twitter': Using social media at a conference with nursing students," Nurse Educ. Today, vol. 68, pp. 188–191, 2018.
M. Chen and Y. Yang, "Design and Implementation of the Information Literacy Evaluation System for High School Students," 2000.
R. Foster and D. R. Neal, Learning social media: Student and instructor perspectives. Woodhead Publishing Limited, 2012.
W. M. Al-Rahmi and A. M. Zeki, "A model of using social media for collaborative learning to enhance learners' performance on learning," J. King Saud Univ. - Comput. Inf. Sci., vol. 29, no. 4, pp. 526–535, 2017.
Chapter 1 - Researching Student Learning. Elsevier Inc., 2018.
B. Cooper, Empathy, Emotion, Technology, and Learning. Elsevier Inc., 2016.
E. Rahimi, J. Van Den Berg, and W. Veen, "A learning model for enhancing the student's control in educational process using Web 2.0 personal learning environments," Br. J. Educ. Technol., vol. 46, no. 4, pp. 780–792, 2015.
L. Briz-Ponce, A. Pereira, L. Carvalho, J. A. Juanes-Méndez, and F. J. García-Peñalvo, "Learning with mobile technologies – Students' behavior," Comput. Human Behav., vol. 72, pp. 612–620, 2017.
S. Moghavvemi, A. Sulaiman, N. I. Jaafar, and N. Kasem, "Social media as a complementary learning tool for teaching and learning: The case of youtube," Int. J. Manag. Educ., vol. 16, no. 1, pp. 37–42, 2018.
S. Järvelä, "Socioemotional aspects of students' learning in a cognitive-apprenticeship environment," Instr. Sci., vol. 26, no. 6, pp. 439–472, 1998.
V. Balakrishnan and C. L. Gan, "Students' learning styles and their effects on the use of social media technology for learning," Telemat. Informatics, vol. 33, no. 3, pp. 808–821, 2016.
N. Li, S. El Helou, and D. Gillet, "Using Social Media for Collaborative Learning in Higher Education : A Case Study," Proc. 5th Int. Conf. Adv. Comput. Interact., pp. 1–6, 2012.
E. Orduna-Malea and A. Alonso-Arroyo, "8 - Global performance on social media," Cybermetric Tech. to Eval. Organ. Using Web-Based Data, pp. 153–176, 2018.
E. Alwagait, B. Shahzad, and S. Alim, "Impact of social media usage on students academic performance in Saudi Arabia," Comput. Human Behav., vol. 51, pp. 1092–1097, 2015.
F. Giunchiglia, M. Zeni, E. Gobbi, E. Bignotti, and I. Bison, "Mobile social media usage and academic performance," Comput. Human Behav., vol. 82, pp. 177–185, 2018.
J. Kostalova, L. Tetrevova, and J. Svedik, "Support of project management methods by project management information system," Procedia-Social Behav. Sci., vol. 210, pp. 96–104, 2015.
S. S. Aljomaa, M. F. Mohammad, I. S. Albursan, S. F. Bakhiet, and A. S. Abduljabbar, "Smartphone addiction among university students in the light of some variables," Comput. Human Behav., vol. 61, pp. 155–164, 2016.
W. Ben Khalifa, D. Souilem, and M. Neji, "An Evaluation System of Students (Applied in Primary School in Tunisia)," 2017 IEEE/ACS 14th Int. Conf. Comput. Syst. Appl., pp. 1385–1390, 2017.
W. Jiao and J. Zhao, "Study on communication between home and school system based on mobile education platform," Proc. 2007 1st Int. Symp. Inf. Technol. Appl. Educ. ISITAE 2007, pp. 478–482, 2007.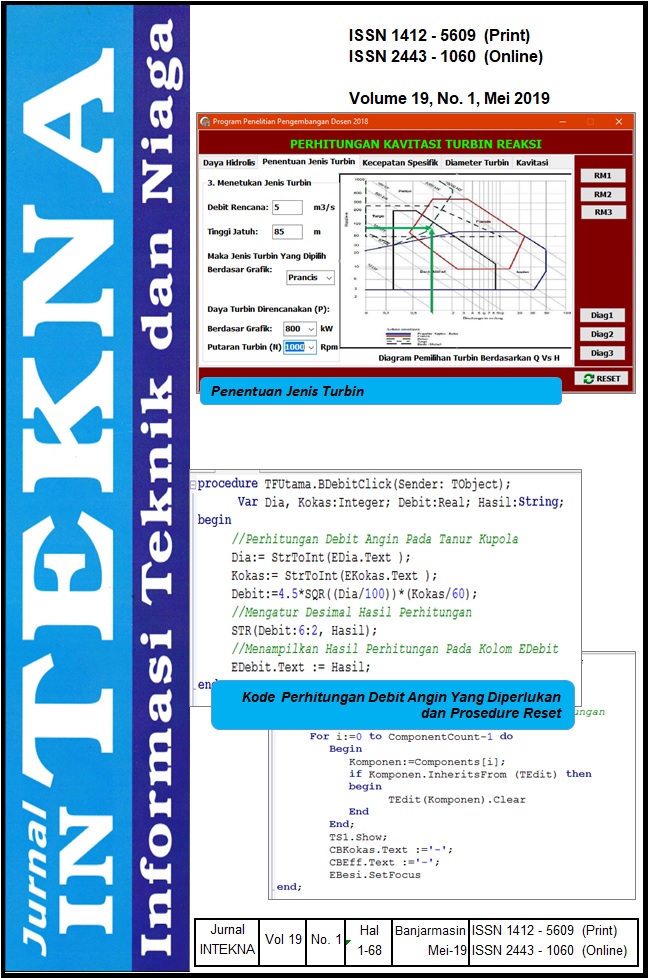 How to Cite
YUNUS, Hedi; BARATA, Gusti; IBRAHIM, Ali. ANALISIS HUBUNGAN PEMANFAATAN TEKNOLOGI INFORMASI SEBAGAI PENUNJANG PRESTASI MAHASISWA FASILKOM UNSRI MELALUI METODE UJI CHI-SQUARE.
Jurnal INTEKNA : Informasi Teknik dan Niaga
, [S.l.], v. 19, n. 1, p. 1-5, may 2019. ISSN 2443-1060. Available at: <
http://ejurnal.poliban.ac.id/index.php/intekna/article/view/714
>. Date accessed: 14 aug. 2020.