Efektivitas Ordinary Cokriging Dan Kriging Untuk Karakterisasi Potensi Manifestasi Panas Bumi
Ishaq Ishaq

Pengajar Jurusan Teknologi Pertambangan, Akademi Teknik Pembangunan Nasional (ATPN) Banjarbaru
Abstract
Salah satu metode yang dapat digunakan untuk mengkarakterisasi manifestasi permukaan adalah metode geostatistik, dalam hal ini menggunakan metode Ordinary Cokriging (COK) dan Ordinary Kriging (OK). Tujuan dari penelitian ini adalah untuk mengetahui potensi manifestasi di permukaan sekitar Wayang Windu dengan parameter fisis manifestasi permukaan berupa pH dan konduktivitas serta mengevaluasi hasil estimasi metode COK terhadap metode OK.
Data yang digunakan adalah data primer berupa sifat fisis tanah, yaitu pH dan konduktivitas yang diukur langsung di zona manifestasi permukaan. Sedangkan data sekunder yang digunakan berupa data hasil pemodelan kekasaran permukaan (Roughness) dari Intensitas Hamburan Balik (Back Scattering) citra ALOS PALSAR dengan dua polarisasi, yaitu: HV dan VH. Model variogram yang digunakan untuk kedua parameter adalah struktur bersarang dengan dua struktur model variogram sferikal. Parameter variogram range (a) adalah 900 m untuk skala lokal dan 4000 m untuk skala regional.
Hasil menunjukkan metode COK lebih efektif daripada metode OK yang dapat diketahui dari rata-rata varians estimasi dan regresi linier data hasil estimasi terhadap data lapangan, di mana rata-rata varians estimasi metode COK lebih rendah dari rata-rata varians estimasi metode OK. Estimasi kedua parameter menunjukkan zona potensi mengarah ke utara. Zona manifestasi memiliki karakteristik pH rendah dan konduktivitas yang tinggi.
References
Bogie, I., Kusumah, Y.I., dan Wisnandary, M.C. (2008): Overview of the Wayang Windu Geothermal Field, West Java, Indonesia. Geothermics, vol. 37, pp. 347-365.
Hochstein, M.P., dan Sudarman, S. (2008): History of Geothermal Exploration in Indonesia from 1970 to 2000. Geothermics, 37: 220-266.
Ishaq, Heriawan, M.N., dan Saepuloh, A. (2016): Charaterizing Geothermal Surface Manifestation Based on Multivariate Geostatistics of Ground Measurements Data. Proceddings, 5nd ITB Internatioanl Geothermal Workshop, Institut Teknologi Bandung, Bandung, Indonesia.
Meilianda, E., Huhn, K., Alfian, D., dan Bartholoma, A. (2012): Application of Multivariate Geostatistics to Investigate the Surface Sediment Distribution of the High Energy and Shallow Sandy Spiekeroog Shelf at the German Bight, Southern North Sea. Scientific Research: Open Journal of Marine Science, 2, 103-118.
Purnanto, M.H., Purwakusumah, A. (2015): Fifteen Years (Mid-Life) of Wayang Windu. Proceedings World Geothermal Congress, Melbourne, Australia.
Saepuloh. (2016): Unpublished Report.
Susanto, A., Tsuchiya, N., Suparka, E., Hirano, N., Kishita,A., Kusumah, Y.I. (2011): Geology and Surface Hydrothermal Alteration of Malabar Area, Northern Part of the Wayang Windu Geothermal Field, Indonesia. GRC Transactions, Vol. 35.
Wackernagel, H. (1995): Multivariate Geostatistics: An Introduction with Applications. Springer-Verlag Berlin Heidelberg, New York.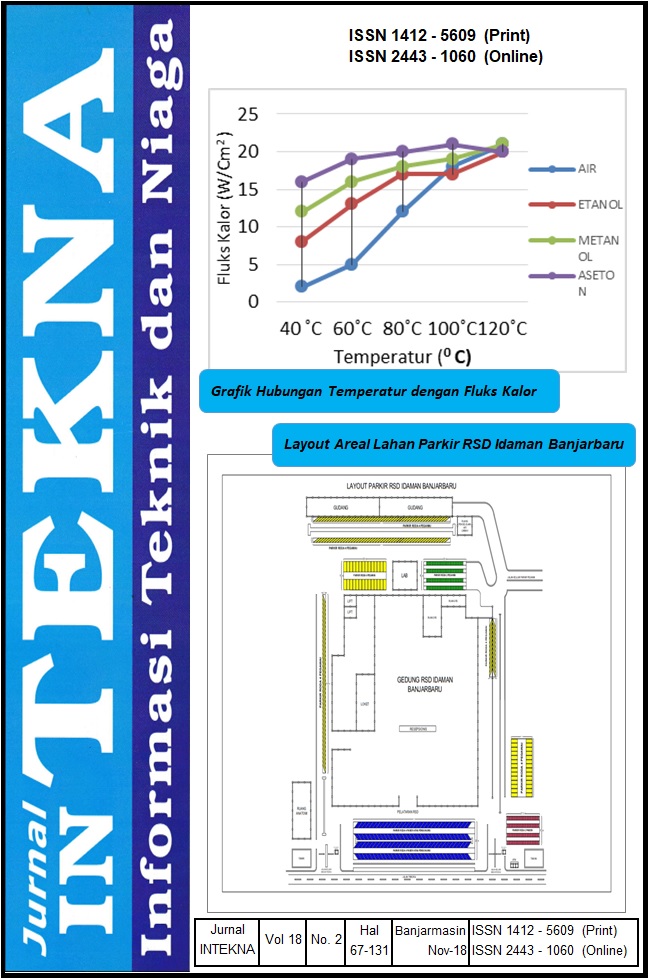 How to Cite
ISHAQ, Ishaq. Efektivitas Ordinary Cokriging Dan Kriging Untuk Karakterisasi Potensi Manifestasi Panas Bumi.
Jurnal INTEKNA : Informasi Teknik dan Niaga
, [S.l.], v. 18, n. 2, p. 79-85, nov. 2018. ISSN 2443-1060. Available at: <
http://ejurnal.poliban.ac.id/index.php/intekna/article/view/685
>. Date accessed: 07 july 2020.